Bottrill wins National 100-mile time trial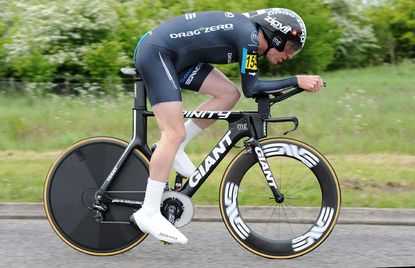 Multi-medallist Matt Bottrill finally secured the senior time trial gold that had proved so elusive over the years when he won Sunday's RTTC National 100-mile Championship in Shropshire.
Second in the 10 and 50-mile championships this year and third in the '25', the 35-year-old Leicestershire rider covered the Prees-based course in 3-37-13 for victory by 1-45 over Andy Bason (Team Pedal Revoluton.co.uk) and also led www.Drag2zero.com to the team title.
Derek Parkinson, third in 3-42-49, was second counter with the winning trio completed by sixth-placed Scott Povey, 3-45-18, while defending champion Rebecca Slack (London Dynamo) retained her women's title in 4-13-43.
"Fantastic - I've been trying to win one of these for goodness knows how many years and I'm over the moon," said Bottrill. "It's a long time since I did it as a junior.
"It's not my preferred distance, it's about nine years since I last rode it and I said never again after that, but because of the training I've been doing and winning medals at the other three distances, I decided to go for it. It's quite special to have a medal from every one.
"I was getting checks all the way round and once I knew I'd got a time gap on Andy, I didn't need to risk blowing.
"With Derek taking third it's great for the team as well. We've won the 10 and the 50, and it's been a good season for us."
Bottrill went through halfway in 1-47-25 with a lead of 1-22 over Bason as he recorded a new record for the single-carriageway Shropshire course which is regarded as a stern test.
Slack was always on top on a morning of light winds and some sunshine to score a clear win over Bronwen Ewing (PM Racing), 4-17-33, with Paula Moseley (Climb On Bikes RT) coming through to third place in 4-18-04 as Christine McLean (Shetland Wheelers) dropped out of the medals from second place at half-distance.
It was a weekend of near misses for former multi-national champion Richard Prebble (Node4 Giordana), who found one too good in both the South Eastern RC 10 and Farnham RC 25.
Pete Tadros (In-Gear Quickvit Trainsharp RT) clocked 20-05 to beat Prebble by 30 seconds in the 10 at Crawley, and Sebastian Ader (a3crg) won by 19 seconds with 51-59 in the 25 at Froyle, Hampshire.
Andy Wilkinson (Port Sunlight Wheelers) finished over five minutes clear with an impressive winning 1-41-51 in the Yorkshire CF 50 at Dalton, North Yorkshire.
James Tucker (South Pennine RC), 52-39, got the better of prolific local winner James Coleman (Witham Wheelers) by 31 seconds in Sleaford Wheelers's Nev Crane Memorial 25 at Donington, Lincolnshire.
Related links
Cycling Weekly's time trial news section
Thank you for reading 20 articles this month* Join now for unlimited access
Enjoy your first month for just £1 / $1 / €1
*Read 5 free articles per month without a subscription
Join now for unlimited access
Try first month for just £1 / $1 / €1