Catching up with...Pete Hawkins
CW talks to the Irish Madison Genesis rider during the team's Majorcan training camp.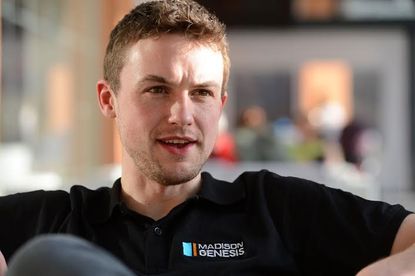 (Image credit: Andy Jones)
After a rain-interrupted coffee stop ride during the Madison Genesis training camp in Majorca last week, Cycling Weekly caught up with the 28-year-old Irishman Pete Hawkins over another coffee...and some sun.
CW: How's your first training camp with the team going so far, Pete?
PH: It's been good so far. It's good to get the team together – albeit without the Kiwi riders [Mike Northey and Tom Scully] – and do some decent rides with them all. It's also nice to get a feel for how the winter's been, as you never know how your form is until you get to a camp.
CW: You joined Madison Genesis for 2014 after two years at IG-Sigma Sport. Is it daunting switching to a new team?
PH: I wouldn't say it's daunting. There's nobody aside from Scott [Davies] that I had never met before I joined the team. I worked with Roger [Hammond, team manager] at the 2012 Tour of Britain, when he looked after the Sigma team, too. I think it's a bit different if you join a team not knowing anybody, and also the older you get, the more you get used to these situations. It's not as if I'm the only new rider on the team for 2014, either.
CW: What are your first thoughts on the atmosphere within the team?
PH: So far I'm happy – Roger has things that he demands of you, and expects of you, but he leaves other things (like what time we have breakfast) to the individual riders. He's fairly flexible on things that aren't that important. Each team has their own atmosphere, and that's one thing you don't know what it will be like when you join one.
CW: Do you work better in the type of relaxed environment Roger has in place?
PH: Yes. As a person I don't like having unnecessary rules forced upon me. I don't work well in that situation.
CW: How much was the prospect of linking up with Roger again a factor in your decision to join the squad?
PH: I'd say he was the main reason I joined. I liked the way he worked when he was a guest manager for Sigma – I probably had the best week of my career that week. Even had Sigma have continued, I think I would have made the move. As soon as I spoke to him, he was really keen to have me join the team. We talked about it [joining for 2013] at that Tour of Britain, too, but I was happy at Sigma then. I was always one of the protected riders. Also, I don't think Roger wanted to take riders from the team having just worked with them.
CW: Because of the team's strength in depth, is it a worry for you that you're not a guaranteed "protected" rider this season?
PH: I know I need to perform and be fit just to get in races. If there isn't that strength in depth, you can become complacent. Even after I broke my collarbone in the Ras, I got in the Sigma team for the Premier Calendar rounds even when I didn't have good form. In fact, I don't think I ever missed out on getting selected for races I wanted to ride. However, if you know you need to be performing just to make the start line, it will bring the whole team on.
CW: Does your role in team differ to your team-mates' because you're the oldest rider on it?
PH: [Laughs] I didn't realise until a couple of days before the launch. My dad reminded me, which was appreciated! I don't think it makes too much difference; there are younger guys on the team who have more experience than me on the British scene, for example. The fact that I'm the oldest says more about the team than it does me.
CW: This is your third year racing in Britain - do you feel comfortable on the scene now?
PH: Yes, definitely. I know the riders, the races and the teams now. When I came onto the scene in 2012, I didn't really know what my role would be or how I'd fit in. I think I was signed more as a crit rider, but I ended up performing better in road races. I know what suits me, what races I can target, and where I can do and do a job more for the team.
CW: You crashed out of the Ras stage race last year - is there unfinished business for you in that event?
PH: It was the first time I've ever broken a bone in a bike race – that's not bad after 10 years. It was pretty major for me, leading a UCI-ranked race, and one that has been a big deal for me since I started cycling. Hopefully I'll make it back there and finish what I started.
Thank you for reading 20 articles this month* Join now for unlimited access
Enjoy your first month for just £1 / $1 / €1
*Read 5 free articles per month without a subscription
Join now for unlimited access
Try first month for just £1 / $1 / €1