Dillon Byrne wins Sheffrec Spring Road Race (gallery)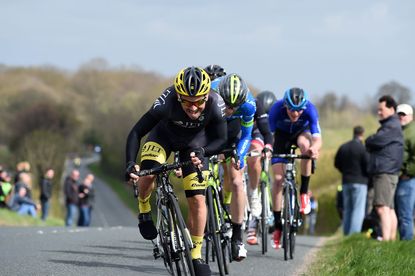 (Image credit: Andy Jones)
Dillon Byrne (Champion System) took the victory in the Sheffrec CC Spring Road Race at Braithwell near Maltby in South Yorkshire on Sunday.
Byrne took the victory after sprinting clear of a four-man escape group. Former winner Thomas Bustard (Giordana-Mitsubishi Electric) came in for second, with George Moore (Bicicielo) in third.
Earlier in the race, Graham Briggs (JLT-Condor) and Steve Lampier (Raleigh-GAC) had very been active in driving the pace of the race - with Lampier later putting himself into the final four-man selection, but just missing out on the podium positions in fourth.
>>> Bradley Wiggins, Ben Swift and Marcel Kittel on the Tour de Yorkshire startlist
Result
Sheffrec CC Spring Road Race 2015: 62.4 miles (100.4km)
1. Dillon Byrne (Champion System) in 2-17-23
2. Thomas Bustard (Giordana-Mitsubishi Electric)
3. George Moore (Bicicielo)
4. Steve Lampier (Raleigh GAC) at same time
5. Alistair Rutherford (The Nab Racing) at 41 secs
6. Kieran Simcox (Envelopemaster/Bike Box Alan)
7. Alastair Hepworth (Envelopemaster/Bike Box Alan)
8. Peter Barusevicus (All Terrain Cycles)
9. Joseph Moses (JLT Condor) at same time
10. Richard Jones (Achieve Northside Skinnergate) at 1-42
Thank you for reading 5 articles this month* Join now for unlimited access
Enjoy your first month for just £1 / $1 / €1
*Read 5 free articles per month without a subscription
Join now for unlimited access
Try first month for just £1 / $1 / €1