Good Friday track meeting moves to Lee Valley VeloPark
Good Friday track event leaves Herne Hill Velodrome for Lee Valley VeloPark after 110 years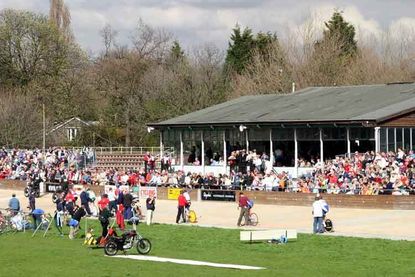 This year's Good Friday track meeting will break with a 110-year tradition, leaving its home of Herne Hill Velodrome for the Lee Valley VeloPark facility on April 18.
The London 2012 Olympic Games velodrome at the newly-opened Lee Valley VeloPark hosted its first big event at the weekend, when a sell-out crowd watched the Revolution Series event over Friday and Saturday night.
Whilst the open-air venue at Herne Hill can be firmly considered the spiritual home of the Good Friday meeting, promoter Graham Bristow and the Southern Counties Cycling Union felt the time was right to make a move to the new indoor venue, a decision they say "was not taken lightly".
A statement issued on Monday said: "We know that many of our supporters at Herne Hill will be disappointed that they will not be making their annual pilgrimage to Burbage Road - and it will certainly be a very strange feeling for us to not be unlocking the gates at 6 o'clock in the morning – but after 110 years of forecast watching we will not be at the mercy of the British weather this year!"
In previous years, the event has been cancelled or shortened due to adverse weather. It's not the first time that the event has moved away from Herne Hill - in 2011, the event took place in Manchester Velodrome after problems with 1948 Olympic venue Herne Hill's infrastructure. Since then, the track has been resurfaced and much work done, but the pavilion is still in need of substantial renovation.
"Herne Hill is a much-loved and highly respected venue and work to renovate and evolve into a multi-use facility is ongoing, taking it from strength to strength and elevating it far above it's Victorian peers.
"Whilst the Good Friday meeting is undoubtedly a part of the velodrome's history we are aware that track racing has moved on over the years and the event also needs to evolve to meet the expectations of the new generation of enthusiasts and supporters."
Thank you for reading 10 articles this month* Join now for unlimited access
Enjoy your first month for just £1 / $1 / €1
*Read 5 free articles per month without a subscription
Join now for unlimited access
Try first month for just £1 / $1 / €1