Julia Shaw wins her ninth national 50-mile time trial championship
Shaw beat defending champion Hayley Simmonds by over a minute at the 2015 race in Shropshire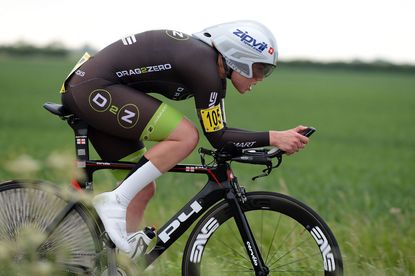 Eleven years since she first won the title, Julia Shaw bagged her ninth National 50-Mile Championship win in Shropshire on Sunday morning.
The 49-year-old drag2zero.com rider, who missed most of 2014 with pneumonia and a shoulder injury, clocked 1-53-09 to regain the crown from last year's winner Hayley Simmonds (Team Velosport) who was 1-13 behind in second.
But her victory was far from certain, and a time check at 20 miles revealed that Simmonds was ahead until Shaw upped the pace and re-took the lead on the Prees bypass near Whitchurch.
"It was my first 50 for a couple of years so I wasn't sure how I would go," said Shaw. "I took it easy for the first ten miles as it was a hard section into the wind and I wasn't going to knock myself out.
"But I got a time check at about 20 miles and I was 40 seconds down on Hayley. That was a wake-up call for me! For the last ten miles I really hammered it."
Defending champ Simmonds, who has been riding road races for much of this season, said: "I've not done many time trials and 50 miles on a time trial bike was a bit too much for me. After today I'm not sure about riding the 100 championships which I've entered."
>>> Matt Bottrill wins National 50-mile time trial (photos)
Trainsharp Racing Team took the team prize with fifth-placed Bronwen Ewing, Karina Bowie and Tina Reid who lost an estimated five minutes with a puncture. Although ninth, Rebecca Rimmington wasn't eligible for Trainsharp's winning trio.
Results:
1 Julia Shaw (drag2zero.com) 1:53:09
2 Hayley Simmonds (Team Velosport) 1:54:22
3 Angela Hibbs (Team Wattcycle) 1:58:27
4 Kate Mcneill (Berkshire Tri Squad) 1:58:36
5 Bronwen Ewing (Trainsharp RT) 1:59:11
6 Jasmijn Muller (Paceline RT) 2:01:24
7 Ingrid Shepherd (Sunderland Clarion) 2:01:31
8 Rosie Armitage (Team Echelon-Rotor) 2:01:33
9 Rebecca Rimmington (Trainsharp RT*) 2:01:38
10 Becky Lewis (Fibrax-Wrexham RC) 2:01:56
Team: Trainsharp RT (Ewing, Bowie, Reid) 6:22.18.
Inside the TTT with Cofidis
Thank you for reading 10 articles this month* Join now for unlimited access
Enjoy your first month for just £1 / $1 / €1
*Read 5 free articles per month without a subscription
Join now for unlimited access
Try first month for just £1 / $1 / €1
Snowdon Sports is a long-established independent sports news agency, which supplies editorial to a range of media outlets - such as Cycling Weekly - as well as sports governing bodies. Snowdon Sports often covers results at Cycling Time Trials events in the UK and has long been a source of information and imagery to Cycling Weekly.