Marianne Vos enthusiastic about British Women's Tour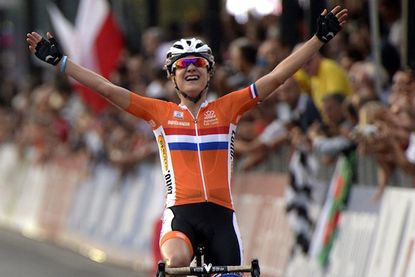 Marianne Vos, Olympic, road race and cyclo-cross world champion, is enthusiastic about Britain's new Women's Tour in 2014, but admitted that she wasn't certain to ride.
Speaking at the recent Braveheart Fund dinner Vos said: "It'll be a fantastic race and, although I'd like to see more races combined with men's events, to have this race only for us is massively better.
"At this race we'll have the crowds there for us and have everything set up only for women - not because there's a men's race and they think, 'Oh, poor girls, let them ride too'.
"This might be the best thing that could happen to show off women's racing.
"In the Netherlands, it wouldn't get a lot of attention, but in the UK this sort of race is possible.
"Hopefully broadcasters will pick it up worldwide and that can make a change in raising the profile of women's racing - showing sponsors what's possible."
Clearly it would be a massive boost for the profile of the race if Vos and her team were to take part.
Is it part of her plans?
"Well, I guess so," replied Vos, cautiously.
Bury St Edmunds finale for 2014 Women's Tour
Bury St Edmunds, Suffolk, will host the finish of the fifth and final stage of the 2014 Women's Tour, organiser SweetSpot announced on Thursday.
The opening stage of the week-long event rolls away from Oundle on May 7.
Related links
Women's Tour to start in Northamptonshire
The original version of this article appeared in the November 14 2013 issue of Cycling Weekly magazine
Thank you for reading 10 articles this month* Join now for unlimited access
Enjoy your first month for just £1 / $1 / €1
*Read 5 free articles per month without a subscription
Join now for unlimited access
Try first month for just £1 / $1 / €1