Mark Arnold continues record-setting streak in CC Sudbury time trial
British time trial round-up (March 8-9): News and results from around the UK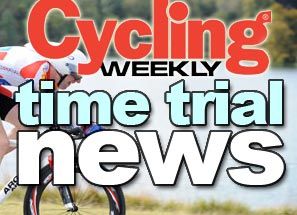 After breaking the course record in CC Breckland's 10-mile event the previous weekend, Mark Arnold (CC Desireagear) bagged another course record this weekend as he won CC Sudbury's Mad March hilly 22 in Suffolk on Sunday.
With the event being run off on a sunny and warm day, Daniel Bloy (Team Velovelocity) had earlier equalled the course record with a ride of 49-42, but Arnold then smashed the old mark with a winning time of 48-08 to take a convincing victory by 1-34.
However, the course near Lavenham proved greasy for the early starters, with at least one coming off on a corner.
Elsewhere, Rob Pears (Bath CC) bagged a second consecutive win when he took victory in the Gillingham and District hardriders 19-mile event near Bruton in Somerset.
He clocked 43-22 for the V303 course, winning by 23 seconds from Jon Wynn (Northovers VT), with Matt Burden (Severn Road Club) another ten seconds back in third spot.
Twickenham CC's Liam Maybank secured victory in the East Surrey RC hardriders event, which was reduced from 29.9 miles to 27.1 miles because of storm damage to a bridge on the course.
He covered the distance in 1-01-18 to win by 29 seconds from Tim Stevens (34 Nomads), with Steve Dennis (East Grinstead CC) just 14 seconds further back in third.
Kingston Wheelers placed Steve Irwin and Phil Ember fourth and fifth respectively, while Maryka Sennema won the women's prize for Kingston Wheelers with a time of 1-11-43.
Rapha Condor-JLT notched up a one-two in Saturday's Border City Wheelers 29-mile event at Dalston in Cumbria.
19-year-old Hugh Carthy led the way with a superb time of 1-07-44, but that was just two seconds quicker than team-mate Richard Handley, while the best of the rest was vet Jon Sturman (Activ Cycles) who was another two and a half minutes back with 1-10-14.
Nigel Haigh (Strategic Lions) was 50 seconds quicker than anyone else in the Manchester and District TTA 10 at Allostock in Cheshire. The 43-year-old clocked 21-38 for the J4/17 course, while 48-year-old Barry Charlton (Swinnerton Cycles) was second with 22-28.
All Terrain Racing rider Zack Williamson flew the flag for the younger riders, the 18-year-old covering the distance in 22-55 to take third and push 50-year-old Paul Robinson into fourth.
Also flying the flag for evergreen riders was Brian Sunter, the 70-year-old member of Condor Road Club who won the Veterans TTA (North Midlands) 18km race at Ranby in North Nottinghamshire.
He clocked 26-23 to record a plus on age standard on 6:09, which was 12 seconds better than Ian Dalton (Cherry Valley RT). Actual fastest non VTTA rider was former British Best All-Rounder Kevin Dawson who clocked 23-16
Thank you for reading 10 articles this month* Join now for unlimited access
Enjoy your first month for just £1 / $1 / €1
*Read 5 free articles per month without a subscription
Join now for unlimited access
Try first month for just £1 / $1 / €1
Snowdon Sports is a long-established independent sports news agency, which supplies editorial to a range of media outlets - such as Cycling Weekly - as well as sports governing bodies. Snowdon Sports often covers results at Cycling Time Trials events in the UK and has long been a source of information and imagery to Cycling Weekly.