Matt Bottrill wins National 50-mile time trial
Matt Bottrill wins in Dorset ahead of Michael Hutchinson as Hayley Simmonds wins the women's event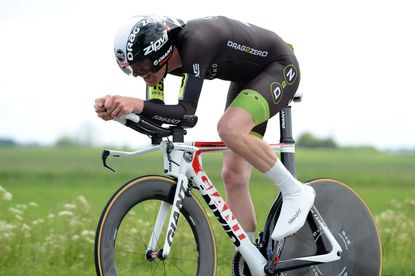 Unbeaten this year, Matt Bottrill (www.drag2zero.com) continued in winning ways with a successful defence of the RTTC National 50-mile time trial title in Dorset.
As anticipated, the event at Poole developed into a duel between Bottrill and former champion Michael Hutchinson, whose run of 13 successive titles ended when he missed last year's event through illness, and it was the holder who came out on top by over two minutes with a final time of 1-40-47.
Bottrill, who has worked harder than ever in training with his sights set on the BC Time Trial Championships in Wales at the end of this month, went through halfway in 52-04 with an advantage of 47 seconds over Hutchinson, who was left to take the silver medal in 1-43-00 while leading In-Gear Quickvit Trainsharp RT to the team title.
Behind them, Adam Topham (High Wycombe CC) overturned a four-second deficit at 25 miles to take third place from Tejvan Pettinger (Sri Chinmoy RT), 1-47-06 to 1-48-04.
"It's fantastic, I'm made up," said Coalville postman Bottrill, 36. "The event went well and I felt really good. "It was my kind of course, quite undulating, and really warm, even from 6am, with no wind to speak of.
"I've trained so hard for the next few weeks and my form is coming together at the right time. I've improved, and I've made my focus the BC Championships – I don't know who is riding yet, but it will be nice to see what I can do against those guys when I know I have done everything that I can possibly do."
Hayley Simmonds (Velosport-Pasta Montegrappe) claimed her first RTTC women's title in 1-58-36, beating Emily Robertson (CC Luton) by 41 seconds with both – the youngest riders in the event - competing over the distance for the first time.
Robertson, from Biggleswade, reached 25 miles in 1-00-32 to lead her rival by two seconds, but Simmonds came home the stronger with third place going to Bronwen Ewing, 2-01-42, who lead Trainsharp RT to team honours.
"The distance was a bit of a shock to the system," said 25-year-old Simmonds, from Cambridge. "I wasn't sure what I would do, but I knew what sort of power I was turning out so that was giving me a guide to my pace. We were lucky that the threatened heavy rain kept away, we just had a shower so it wasn't so bad."
Thank you for reading 10 articles this month* Join now for unlimited access
Enjoy your first month for just £1 / $1 / €1
*Read 5 free articles per month without a subscription
Join now for unlimited access
Try first month for just £1 / $1 / €1
Snowdon Sports is a long-established independent sports news agency, which supplies editorial to a range of media outlets - such as Cycling Weekly - as well as sports governing bodies. Snowdon Sports often covers results at Cycling Time Trials events in the UK and has long been a source of information and imagery to Cycling Weekly.