Riders' heart rate and power data from the Monsal HC show how deep you have to go in a hill climb
Maximum heart rates of 200bpm+ for many riders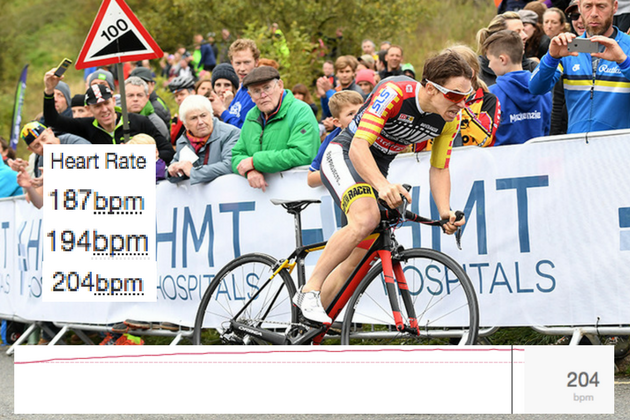 (Image credit: Andy Jones)
If you're thinking about doing a few hill climbs this autumn and are not quite sure what to expect, then this article might help to explain just how much it's going to hurt.
As well as being a test of power-to-weight ratios, hill climbs are about which riders can go the deepest and hardest, and some of the figures from this weekend's Monsal Hill show just how deep and hard some riders went.
Unfortunately neither of the winners uploaded their riders to Strava, but we have got the details of Andy Nichols and Elizabeth Banks, who both rode to third place finishes.
>>> Adam Kenwayand Rebecca Goodson win 2017 Monsail Hill climb titles (photos)
For his 1-21 effort, Nichols recorded an average power of 673 watts, including a 910 watt acceleration as he got up to speed off the start line.
As for Banks, she hit an average power of 428 watts and a maximum power of 598 watts, and an average heart rate of 185bpm.
However, some of the truly staggering heart rate figures come from riders further down the field.
>>> Is heart rate still relevant in the age of the power meter?
NFTO Race Club's Mike Morris, fifth in the men's race, recorded an average heart rate of 188bpm and a maximum heart rate of 199bpm for the 500-metre long climb, but the prize for the highest heart rate of the day probably goes to Harry Thompson (Leicestershire RC).
Thompson, who for some reason was riding a cyclocross bike (but still managed to finish in a very respectable 42nd place), went seriously deep hitting a maximum heart rate of 204bpm just as he crossed the line.