Can road bike time trialling revive the TT scene?
Vern Pitt reports on a new initiative to promote the sport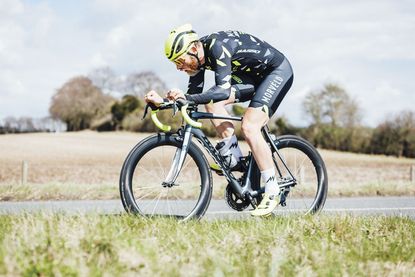 This story originally appeared in Cycling Weekly's print edition.
Proposals to arrest the stagnation in the number of people doing time trials by introducing a standardised road bike category are currently in development.
Time trialling has long been a stalwart of the British racing scene but the rising tide of cycling's popularity — evidenced by a six-fold increase in British Cycling membership between 2007 and 2017 — has not lifted all parts of the sport equally. Track and cyclocross continue to grow but time trialling has remained largely flat. There were 168,896 time trial rides last year, up only 11 per cent on the 151,432 in 2007. The number of TTs ridden in recent years has even declined slightly from its peak of 189,702 in 2014.
This compares unfavourably with the growth in the number of BC racing licence holders, which has grown 168 per cent from 11,846 in 2007 to 31,940 in 2017.
>>> Proposed cycling ban on A63 scrapped though future for time trial course may still be in question
That is where Xavier Disley, owner of AeroCoach, has a plan. He intends to bring forward new rules to his regional Cycling Time Trials committee later this autumn to introduce a road bike category for time trials, he hopes the proposals will be accepted and taken to a national level.
"If you take the number of people competing in sportives and triathlons and people buying bikes there is an enormous disconnect between the two. I think one of the things to arrest that downward trend is to make time trials more accessible to people," he says.
"I'm not trying to replace TT bike riding. The idea is to get more people doing TTs because the numbers are dwindling. Unless something happens now the sport will split between the super aero geeks and the people who just want to ride normal bikes. You need to get them now so you retain them for the future."
You can ride a road bike at most time trials and many, certainly at club level, have a road bike category, but the rules for those aren't standard and often vary from club to club.
By making it standardised Disley hopes it'll increase awareness of road bike time trialling.
He's keen to point out that he's not interested in forcing event promoters to institute a road bike category but believes there are advantages to doing so.
Aerocoach ran a road bike-only time trial on August 12 to test out some draft regulations and got 42 riders and a discussion of the draft regulations on its Facebook page (followed by just under 4,000 people) had attracted 147 comments at the time of writing. All of which suggests there is significant interest in the idea.
It seemed to achieve Disley's goal.
"We had a bit of a mix of people. It's not on the CTT website and the club district website is a bit rubbish, so we just promoted it on Twitter, Instagram and Facebook. We had a couple of people there who don't have TT bikes. We had a 14-year-old kid and his mum enter, it was definitely the big mix of riders; it wasn't all 40-50-year-old men on tricked-out bikes," he says.
CTT too are "open minded" according to national secretary Nick Sharpe, who says they have seen a rise in riders being interested in road bike events. "It's a much simpler way of participating without having to invest in a dedicated TT bike. In the 1970s and 1980s it used to be that everyone had one bike and you raced it; it may be that people don't want to spend £6-7,000 on a road bike and TT bike as well."
Former national 10-mile champion and former cycle sport and membership director at British Cycling, Jonny Clay, played a major role in BC's increase in membership over the last decade. He says that putting road bike riders in a second category made sense. "We found that with classification rankings for road racing, for example, there is a desire to be classified and belong to a group of similar ability, that's the whole principle around categorisation and people do tend to warm to that," he says.
He adds: "I would encourage people to run open events across the categories; run an open event for 80 rather than a road bike one for 40."
Former time trialling champion Michael Hutchinson is positive about the idea but warns there could be unintended consequences. "If you codify what a road bike is you'll get people who specialise in riding road bike TTs; it'll become another element to it and you'll get people carefully speccing and building bikes to work to the limit of these rules and it would become not much more accessible than time trialling."
He points out that he built a bike prior to his Hour record attempt in 2006 that would qualify under Disley's proposed regulations (see box) that he then rode a 49-minute 25-mile TT on. "It wasn't much more than a 1kph slower than a full-on TT rig at the time," he recalls, before adding that it's worth risking this outcome to increase numbers in the sport. He says that there are other barriers to entry that also need addressing, like the reliance on dual carriageways but that "they've been trying to crack that nut ever since I've been racing".
Best British All Rounder in 2018 Adam Duggleby is supportive of the idea but doesn't see the appeal. "If they want to do a TT they will want to go fast," he says.
"The elite riders that only go road racing might just do it for training and think, 'At least I can compete against [Dan] Bigham [national champion] on his road bike'. Even if you do put people on a road bike they'll still be quick.
"Bigham has tested his position on his road bike as well as the TT bike," he adds, giving credence to Michael Hutchinson's concern.
Whether Disley's idea will catch on or whether it will do what he hopes remains to be seen but one thing's for sure: time trialling is losing sight of its minuteman on a road bike right now and should try everything it can to catch-up.
Proposed rules & regs
Disley's draft regulations for the new category:
- No aerobars, clip-on aerobars or aero extensions can be used
- Hands must be holding the handlebars at all times while racing (ie. not with forearms resting on the handlebar).
- Legs must only be covered to mid calf.
- Wheels may have no more than 90mm depth and must have at least 12 spokes.
- Helmets must have no visor.
- Ears must not be covered by the helmet. In addition, the use of a Giro Aerohead helmet will not be permitted. There will be spotters out on course to enforce rule 2.
Thank you for reading 20 articles this month* Join now for unlimited access
Enjoy your first month for just £1 / $1 / €1
*Read 5 free articles per month without a subscription
Join now for unlimited access
Try first month for just £1 / $1 / €1