Proposed cycling ban on A63 scrapped though future for time trial course may still be in question
Highways England has scrapped the proposed ban in what's been called a "victory for common sense"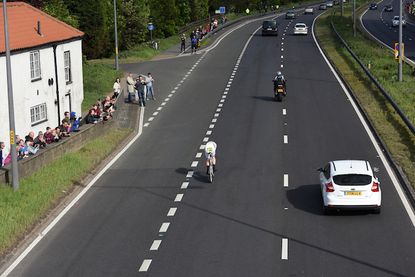 (Image credit: Andy Jones)
Highways England has scrapped the proposed ban on cyclists using the A63 near Hull, which drew over 9,500 letters of objection.
The 15-mile stretch of dual carriageway between North Cave and Daltry Street forms part of the V718 time trial course, in East Yorkshire.
Highways England said in January this year that it was considering applying for a Traffic Regulation Order from the Department for Transport, citing safety concerns over cyclists using the road, which were raised by the Humberside Police.
The course has hosted hundreds of personal bests and several competition records, but Highways England cited five accidents in the last six years, and a fatality in 2013 as key concerns.
Cycling Time Trials, CyclingUK, British Cycling and Welcome to Yorkshire published statements in opposition of the ban, citing concerns that the real issues were not being adressed, and that one such restriction could be the beginning of many.
>>> Why banning cyclists from the A63 road would be a terrible move
On hearing news that the proposal had been scrapped, Duncan Dollimore, Cycling UK's head of campaigns, called the development "a victory for common sense."
"We have been fighting for 140 years for the rights of cyclists, and we couldn't let Highways England impose a ban when there was no real basis or justification," he said.
"One of the arguments put forward was that cyclists couldn't keep up with traffic, but on that basis they would have been banning cyclists on every A-road and many sections of B-road across the country.
"I'm delighted that common sense has prevailed and pleased that Highways England listened to our arguments."
Whilst no ban has been imposed, applications for future time trials on the road are reported to have been withdrawn. The CTT website shows the last event to be run on the course was on August 26, with no future listed tests.
Highways England has said it will examine requests for future events on the course, alongside Humberside Police and the East Riding Safety Forum.
In a statement, it said: "We want people using our roads to be safe and alongside Humberside Police were particularly concerned about how safe cyclists would be with increasing volumes of fast moving traffic on the A63 between North Cave and Hull.
"We're really grateful to everyone who commented on our proposed ban, especially from cyclists themselves.
"We are already developing more cycling and safety improvements for the A63 and in the meantime we urge all road users to use this route safely."
Thank you for reading 20 articles this month* Join now for unlimited access
Enjoy your first month for just £1 / $1 / €1
*Read 5 free articles per month without a subscription
Join now for unlimited access
Try first month for just £1 / $1 / €1