Chris Froome: 'I've never done two Grand Tours back to back and felt better in the second one'
Sky leader views Quintana's Giro-Tour quest as 'admirable' but confirms it's not for him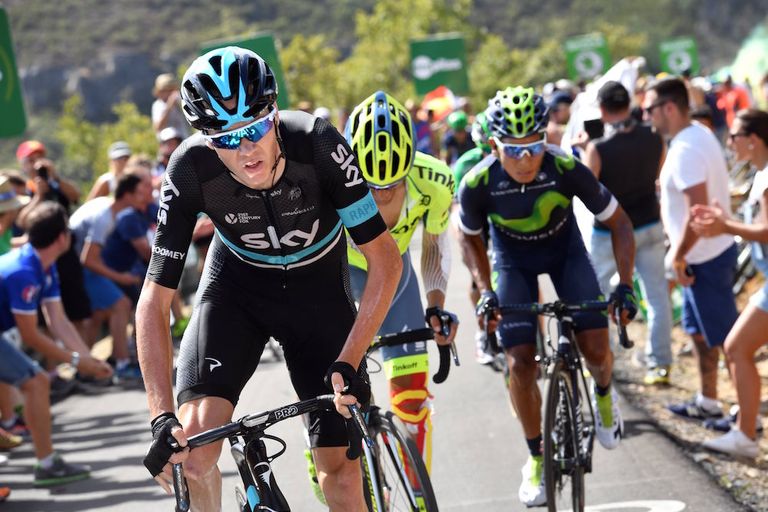 (Image credit: Watson)
When the route of the Giro d'Italia was unveiled back in October, Team Sky's management looked at it and, according to head coach Tim Kerrison, thought that with its five summit finishes and 68km of time trialling it suited Chris Froome perfectly.
>>> 'I turned and there was Valverde, there was Froome, it was the dream escape!'
Five months on, in the midst of Volta a Catalunya, Froome admits he liked the look of the 100th corsa rosa too and was half-tempted to take it on until he factored in the damage it would likely do to the defence of his Tour de France title.
"If I had to look at the Giro in isolation, I'd say that it's a great race and I'd love to be there, especially with it being the 100th edition. I think the Italians have gone all out in making the route as challenging as possible," he tells Cycling Weekly.
"It was very tempting and I was thinking it would be good to be part of that and give it a bash. However, I decided against it bearing in mind where I am in my career, focusing on the Tour.
"In the cycling world, the Giro is a big deal, it is a Grand Tour. But if you ask the man or woman in the street who won the Giro d'Italia, they'll say, 'The Giro de What…? What is that?'"
Froome affirms that it makes sense for him to focus on the Tour while he is in the prime of his career and given the Giro's position on the calendar.
"If it was in August, I'd be there. Unfortunately, it's not," he says.
"The period in which it takes place in mid-May is a key preparation time for the Tour de France, and obviously at a Grand Tour you can't really control the workload you're doing.
"You're basically emptying yourself every day. Maybe that will be a project that I'll take on in a year or two, but I think for now I've got to focus on the Tour."
With that reasoning in mind, what does Froome think of rival Nairo Quintana's decision to ride the Giro and Tour back to back, based on the Colombian's belief that he is always stronger in a second Grand Tour?
"I'm sure Nairo has his own reasons for doing it, but I've never had that experience of doing two Grand Tours back to back and feeling better in the second one than I did in the first," admits Froome.
"I wish I had, but unfortunately not. I've always felt that I'm hanging on in the second one, that I'm a bit off the pace. It's admirable that he's taken on that challenge, but I've certainly not had that sensation."
Asked whether he thinks the Colombian will have to step up another level after the Giro in order to take on fresher rivals such as Alberto Contador, Romain Bardet and Froome at the Tour, the Sky leader says only time will tell.
"But it does seem like he's set himself a very big task," Froome says, before suggesting another good reason for focusing wholly on this year's Tour.
"I think the Tour is going to be a really interesting challenge in itself given the lack of uphill finishes and the lack of time trial kilometres.
"It really does beg the GC riders to find other opportunities to gain time on each other. It could what the organisers were looking for, that the race becomes more exciting, or it could go the other way and be a lot more controlled," he says.
In either case, tactics should come into play much more, and that's one area where Quintana has yet to prove he's got the beating of Froome and most of his other likely Tour rivals and perhaps another reason for his unexpected focus on the Giro.