'Day one I thought this is not a good idea': Adam Blythe slams one-by bike for demise of Aqua Blue Sport
Blythe says he's still expecting to be paid until the end of the season by Irish team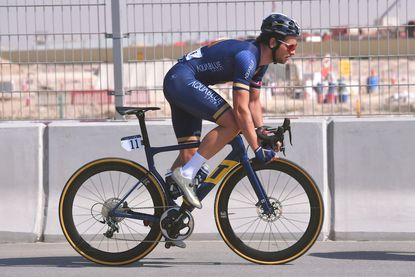 (Image credit: Getty Images)
Adam Blythe says the 3T Strada one-by bike is a key reason for the demise of the Aqua Blue Sport team.
The Irish squad announced that they were folding last week with financial troubles, before quickly pulling out of the Tour of Britain less than a day before the race was due to start.
Blythe, who has ridden for the team since its inception in the 2017 season, says that he still doesn't know much about why the team folded, saying "it's just gone to crap."
The 28-year-old and his Aqua Blue team-mates now face the rest of the year without any scheduled races and will have to look for new teams for 2019.
Blythe was speaking to the Bradley Wiggins Show on Eurosport about the team's collapse, saying that he believed one of the key reasons was the single chainring bike they had to use, which Blythe said left you feeling "knackered."
"I know as much as you do in press," Blythe said about the team.
"It's just gone to crap basically, that's it its just done. The owner's pulled out of the team and just ended it, so that's it no more races until the end of the season. He's going to keep paying us so he says, so fingers crossed we get that money and then that's it.
"3T bikes to be honest [led to this], I think they make great handlebars but terrible bikes. "We've been on one chainring all year haven't we? It's terrible.
"It's just like a track bike with gears on it. There's only one chainring and if you imagine you're doing a climb, normally you'd have a 38 ring to drop down to but now you've just got a 10 cassette that goes up to a 42 with a 50 chainring on the front. So you're knackered, you can't race around in a one-day race let alone a two-week race or one-week race.
"Day one I was like this is not a good idea, but the team signed up to a contract with it and that was it, so we had to deal with it."
Blythe, who has previously ridden with WorldTour teams Omega Pharma-Lotto, BMC Racing, Tinkoff and Orica-GreenEdge in his career, will now need to look for a new team and says he is working with his agent to try and find something for 2019.
With the absence of owner Rick Delaney since the team announced it was was folding, Blythe added that the key thing at the moment was just ensuring he received the money he is owed by the team.
"The main thing is just getting paid," he said. "I've got a family to look after now, so the main thing is I just get paid. I'm happy to be off that bike to be honest, it's behind me."
Thank you for reading 20 articles this month* Join now for unlimited access
Enjoy your first month for just £1 / $1 / €1
*Read 5 free articles per month without a subscription
Join now for unlimited access
Try first month for just £1 / $1 / €1