'I didn't take the decision to change teams lightly': Lizzie Deignan looks to 2019 after birth of daughter
The new mum hopes to be back to training just six weeks after giving birth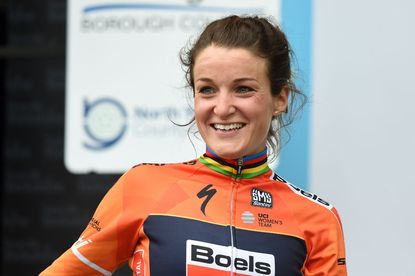 (Image credit: Andy Jones)
Former world champion Lizzie Deignan plans to return to training this week, less than two months after giving birth.
The 29-year-old is looking to her racing return, and her attention is fixed firmly on the 2019 World Championships in Yorkshire.
Having recently given birth to baby daughter Orla and changing teams after six years, Deignan has set out clear targets for her return - the Worlds and the 2020 Olympics
Speaking at the launch of the new Trek-Segafredo kit, held at the Rouleur Classic event on Friday, Deignan told Cycling Weekly: "[I'm targeting] just the World Championships.
"I'm being really clear on that with myself and the people that I'm working with.
"There is no other sporting goal, apart from contributing to the team results - that's really important and something which will help me on my way to the World Championships.
"It's a massive test just a year after Orla's born so to compromise, rushing a peak in fitness before I'm ready, I'm not going do that."
>>> 'It was the most emotional victory of my career': John Degenkolb reflects on Tour de France Roubaix stage win
Deignan's last race was the World Championship road race in 2017, before she stepped back from the peloton to have a child with husband and Team Sky domestique Philip Deignan.
After six years with Boels-Dolmans, Deignan has also undergone the upheaval of changing teams, switching to the newly formed Trek-Segafredo women's team for 2019.
She said: "I think [changing teams] is a really good thing to do. I didn't take the decision lightly. I didn't change for the sake of it.
"I changed to what I feel is a better set up.
"The infrastructure, the logistics, the staff, they're all really professional so I know that I'm going to a good place."
On why she opted to leave Boels, Deignan said: "Just the fact I'd been there for so long, if you're going to the same races every year that's okay but if you're then going to the same training camp with the same staff and the same people every year it does became hard to motivate.
"It wasn't a reflection on anything Boels had done. It was just simply I needed a change."
>>> New Women's Tour of Scotland confirmed for 2019
Asked whether pregnancy and motherhood came into the decision to move, she added: "[Trek-Segafredo] have been awesome from the very beginning. They signed me as a pregnant athlete, so that shows their intention, their trust in me that despite being a mum I'll still be that same athlete.
"I think [Boels'] approach was more that they're the best team in the world and that's their thing. It wasn't as open-minded potentially as Trek has been."
Deignan's career hit a major peak in 2015, a year in which she won 10 races including the British national championships and the world title.
After giving birth, the west Yorkishire-born rider is optimistic about her return to form.
"I've been surprised at every turn with my body in pregnancy. I could do way more than I ever expected and I've lost pregnancy weight way faster than I ever expected," She said.
"So at the moment it's all good surprises but I am cautious. I'm thinking it's going to be the hardest thing I've ever done, so hopefully whatever happens will be easier than I'm expecting."
Deignan had been out on the bike three days before baby Orla's birth and hopes to be back to training this week, just six weeks later, pending the all-clear from doctors.
Without any immediate races on the horizon, Deignan said she isn't due to race until June 2019.
She said: "I'm really enjoying being a mum. Really enjoying family life. It's been very overwhelming, very full on.
"I think actually they're relatively a good match [being a mum and racer]. Training will take four hours a day and then the rest of the day I'll be with Orla.
"I'm not due to race until June, so the really important first few months of Orla's life I'm with her all the time.
"I've never done it before, so I'm no 100 per cent sure how it's going to go but I'm optimistic."
Another British cycling star, Laura Kenny, has also returned to racing after giving birth and is proving a return to winning form is possible.
Kenny returned to World Cup track racing last month, after an almost three-year absence.
She won gold in the omnium and team pursuits.
Deignan said: "[Kenny] is phenomenal.
"To have somebody whose done it before is some important for me.
"There's middle of the night feeds where you're absolutely knackered and you're thinking 'how the hell am I going to wake up tomorrow and do this?'
"Knowing there are women who have done it means that it's possible, which means that I have to try."
Deignan has also welcomed the UCI's decision to roll out minimum wages for women in the coming years.
She said: "I've always said I think a minimum wage is really important to bring the depth of women's cycling up. That's being introduced and I'm really happy about that."
On what she would like to see introduced to women's racing, she said: "There's these Monuments that I would love to be able to take part in. I'd love a Milan-San Remo, which there has been in the past.
"I think we're getting there. I think race organisers are thinking outside the box and thinking 'why not?'
"Hopefully in my lifetime, maybe not in my career anymore but hopefully we'll see those Monuments in women's cycling."
There is also one race that has eluded Deignan's palmarès, an Olympic gold medal, but she has not admitted defeat.
After winning silver in London in 2012, and placing fifth in 2016, Deignan is looking for gold at Toyko 2020: "The World Championships and Olympic gold, that's what I'm coming back for. That'll be the ultimate goal."
Thank you for reading 5 articles this month* Join now for unlimited access
Enjoy your first month for just £1 / $1 / €1
*Read 5 free articles per month without a subscription
Join now for unlimited access
Try first month for just £1 / $1 / €1