New Women's Tour of Scotland confirmed for 2019
A new three-day women's race has been added to the calendar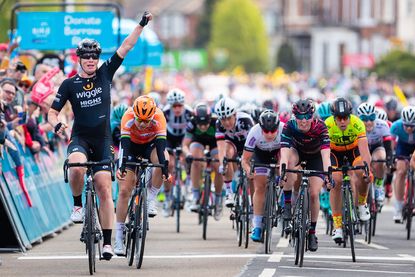 (Image credit: Alex Whitehead/SWpix.com)
A new women's race in Scotland has been added to the UCI calendar.
The Women's Tour of Scotland will be held for the first time in 2019.
Slated as a three-day race from August 9-11, the organisers say the tour will feature elite and mass participation events.
>>>Jolien D'Hoore joins Boels-Dolmans for 2019
Route details are not currently available for the new race, which is organised by events company Zeus Sports and marketing firm Sport For Television.
Managing director at Zeus, Darren Clayton, said: "Scotland's reputation as a destination for hosting international sporting events just keeps growing and we're confident that the Women's Tour of Scotland will only help to strengthen and build on this.
"We want to raise awareness of female cycling on a global scale and there's no better backdrop than the Scottish landscape to show off the sport at its best."
The race has been officially added to the UCI's calendar and will be a 2.1 class event.
Clayton added: "We'll be working with stakeholders across the next few months from Event Scotland, to Scottish Cycling and local businesses to ensure the event sets a strong precedent for years to come.
"We look forward to revealing the full race route through Scotland over the coming months and getting local communities behind the event ahead of next August."
The event will clash with the European Championships, which run from August 7-11.
It will also overlap with the Women's World Tour Vågårda race, between August 11-13.
Zeus Events is a sporting event company run by former professional rugby players Darren and Adam Clayton.
The company currently organisers cycling events including London to Paris and the Surrey Classic Bike Ride.
Sport For Television is a marketing and public relations company that specialise in cycling.
The company were involved in bringing the Tour de France to Britain.
Thank you for reading 20 articles this month* Join now for unlimited access
Enjoy your first month for just £1 / $1 / €1
*Read 5 free articles per month without a subscription
Join now for unlimited access
Try first month for just £1 / $1 / €1