'I feel let down. It was a massive disappointment': Young Brit James Shaw on being dropped by Lotto-Soudal
The 22-year-old said he's not willing to put his WorldTour career to bed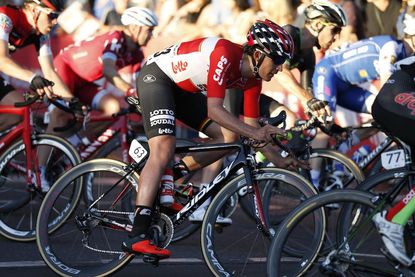 (Image credit: Yuzuru SUNADA)
If any more evidence was needed of how unforgiving the transfer market is this season, look no further than British youngster James Shaw.
The 22-year-old has ridden with Lotto-Soudal since 2016 but the Belgian outfit has unexpectedly dropped the promising rider, leaving him without a contract for 2019.
After two and a half years riding at the highest level and finishing 10th in the Under-23 World Championship road race, Shaw is indicative of the battle facing young bike racers.
Cycling Weekly caught up with a relaxed Shaw at the Rouleur Classic event in Central London, to find out more about his search for a team.
"I thought [my year was] good, but on the basis that I'm still looking for a contract probably not as good as I thought," Shaw said, laughing.
"It's been a progression year and the past three months I've been good. I've been beginning to find my feet a bit and I've started to get the hang of this professional cycling malark.
"My understanding of my deal with Lotto was I'd ride the front and they'd develop me and I'd be looked after and I didn't really have to worry too much about my place because I wasn't there to win races.
"I was there so that we could work together and I'd be a good bike rider.
"It turns out they changed their mind without telling me."
>>> Owain Doull signs new contract with Team Sky and hopes to target Classics
Shaw joined Lotto-Soudal in 2016 at the age of 20, making him one of the youngest riders in the WorldTour.
He stepped up after two year's with Lotto's Under-23 development squad, picking up promising results in the youth categories.
Shaw won the junior Kuurne-Brussels-Kuurne in 2014, then finished fifth at the U23 Liège-Bastogne-Liège, third at Flèche Ardennaise and tenth at the Tour of Normandy in 2016.
But after almost three years with Lotto, the team have opted not to renew Shaw's contract.
He said: "It was a disappointment. I feel a bit let down by them. I was under the impression that my job was to ride the front and I thought I did that well.
"I was never selfish. I never turned around and said 'I'm not doing that.' So it was a disappointment, massively.
"I thought we had a better relationship than that and that's why I was willing to sacrifice every race to ride for them."
This year Shaw represented Lotto at plenty of high level stage races, including the Volta Catalunya, Tour de Romandie and the Tour of Britain.
But his standout result came in Austria during the Under-23 road race where he finished 10th, just two days after being told he didn't have a contract.
"I knew it was coming, but they strung me along a little bit. I got an official letter two days before the World Championships," he said.
>>> Aqua Blue Sport's Stefan Denifl latest rider to sign WorldTour contract after team's collapse
"I'd have liked for them to have waited until after the race. I didn't need that two days before a World Championships - 'oh by the way your whole life is now a complete question mark.'
"But it's not their problem, it's my problem isn't it. They're not to blame, it's something you have to deal with. Things like that happen in cycling."
Reflecting on that Worlds result, Shaw's response is mixed: "I went there for more I'm not going to lie. I went there for a better result but that's bike racing. It is a gamble.
"10th best under 23 in the world - when you put it like that I feel better about myself."
Shaw is one of many young homegrown talents struggling to find security in the brutal end-of-season transfer market.
The sudden collapse of Irish team Aqua Blue Sport left plenty of young racing talent out of contract and on the market.
But Shaw is optimistic about his prospects, in part due to the late re-signing of big name riders like Mark Cavendish who will be staying with Dimension Data.
He said: "I'm telling myself this year it's a delayed year. Cav's just signed. [Ben] Swift's just signed. Normally guys that would have signed straight after the Tour have signed nearly four months later than they should. So I think guys like myself who would normally sign in October maybe we need to wait another month."
On why he thinks the WorldTour market is so tough for young riders, Shaw said he thinks the cleaning up of the sport, twinned with the growing quality of races play their part.
He said: "Sport is always going to be tough.
"Cycling especially is going to be tough, for young riders especially because I think there's no such thing as an easy race.
"I think there was a time a couple of years back when the level of races was a bit different. You could go to a lower race as a younger rider and get a result.
"There's no opportunity now for a young rider to get their foot in the door."
He added: "As the sport gets cleaner and cleaner, the playing field gets more and more level.
"You look at some teams and they've got 15 or 20 riders who are pure winners."
While battling his own contract woes, Shaw still holds huge respect for young riders performing at the highest level – particularly Dutch sprinter Fabio Jakobsen.
The Quick-Step Floors rider has been able to pick up seven wins in his debut year at the WorldTour level.
Shaw said: "My first two years have been tough, but some guys find it overnight.
"Fabio Jakubson is unbelievable. He's found his feet straight away. It's taken me a year and a half to creep into top 10s and top 15s. Some guys don't find it overnight, and equally some guys never find it.
"Huge respect to Fabio. He's the same age as me I've known him a couple of years.
"I'm so happy for him, the fact he's gone on to do that, it's been good to watch.
"He's grown as well as a person."
Returning to his own performance, Shaw is still certain of his own potential.
He said: "I believe I'm beginning to find my feet. I'm not willing to stop.
"If I hadn't done anything for the last couple of months, I would probably say 'alright maybe I'm not cut out for cycling'.
"But I still believe I've got the potential to be a good bike rider on the world scene.
"I'm not willing to stop and put it to bed.
"I'm raring to go and I want to do myself proud."
Thank you for reading 20 articles this month* Join now for unlimited access
Enjoy your first month for just £1 / $1 / €1
*Read 5 free articles per month without a subscription
Join now for unlimited access
Try first month for just £1 / $1 / €1