Former Bardiani-CSF pro fails to overturn growth hormone doping ban
The Italian rider had appealed his four-year ban but the case was rejected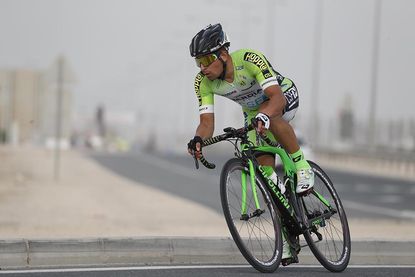 (Image credit: Yuzuru Sunada)
Former Bardiani-CSF rider Nicola Ruffoni has failed to overturn his four-year doping ban.
The Italian tested positive for growth hormone on the eve of the 2017 Giro d'Italia and was sanctioned by the UCI in December.
Ruffoni, 27, filed an appeal with the Court of Arbitration for Sport (CAS) but the case was dismissed.
The four-year ban will stand.
>>> Operation Puerto doping case may be closed without identities of 29 athletes being revealed
A statement from cycling's governing body, published on Friday afternoon, said: "The UCI announces that the Court of Arbitration for Sport has dismissed the appeal filed by Mr Nicola Ruffoni against the decision rendered by the UCI Anti-Doping Tribunal on December 14, 2017.
"The CAS confirmed that Mr Ruffoni committed an anti-doping rule violation and upheld the four-year sanction imposed on him.
"The matter resulted from the analysis of a sample collected in the scope of out-of-competition control on April 25, 2017, which revealed the presence of GH-Releasing Peptides (GHRPs)."
>>> Former Trek-Segafredo rider André Cardoso banned more than a year after EPO positive
According to WADA the performance enhancing attributes of growth hormones include reduction of body fat, increase in muscle mass and strength, and tissue repair.
Ruffoni initially said that the presence of the banned hormone in his system could have been due to treatment for a prostate infection that he had suffered in March and April.
His suspension will expire on May, 3, 2021.
Ruffoni joined Bardiani in 2013 and rode for the professional continental outfit until he was banned last year.
He scored a win the Gran Premio Bruno Beghelli in 2016 and two stages of the Tour of Croatia in 2017.
Thank you for reading 5 articles this month* Join now for unlimited access
Enjoy your first month for just £1 / $1 / €1
*Read 5 free articles per month without a subscription
Join now for unlimited access
Try first month for just £1 / $1 / €1