Geraint Thomas: Shane Sutton has done more than most for British Cycling
The Team Sky rider releases a statement after Shane Sutton resigned from his role at British Cycling over discrimination claims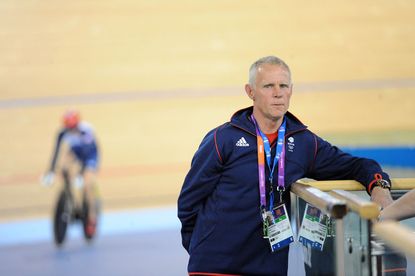 Geraint Thomas has said that Shane Sutton did "more than most for British Cycling" in his time there, after the Australian quit his role at the national governing body on Wednesday having been accused of making discriminatory remarks.
>>> What you need to know about the British Cycling discrimination scandal
Sutton was accused by track sprinter Jess Varnish that he once told her to "go and have a baby" after she was dropped from the Olympic programme, while Darren Kenny, a six-time paralympic gold medallist, alleged the former technical director described para-cyclists as "f**king gimps."
An investigation was launched by British Cycling and Sutton was suspended from his role, but later decided to resign to make sure as "athletes begin their final preparations for Rio, they are able to do so free of distraction."
Thomas, who worked with Sutton to achieve two Olympic gold medals in 2008 and 2012 and numerous world titles, as well as success on the road at Team Sky, released a statement on Wednesday evening saying that inequality was a problem throughout the sport as a whole and not something that would stop with his former coach's resignation.
>>> 'Hypocrisy and double standards in respect to gender are ingrained in cycling'
"With regards to recent events I'd like to say that there is absolutely no place for inequality in sport," Thomas said, "and the recent accusations made against British cycling [sic] need to be looked at and treated seriously.
"However, I would like to talk about my personal experience and say that Shane is one of the main reasons I am where I am today. He has always wanted the best for British riders, and gone the extra mile for us. He's done more than most for British Cycling.
"The inequity issues won't finish with Shane's resignation/investigation, there is a problem with inequality in cycling as a whole that needs to be addressed."
Welshman Thomas is currently riding at the Tour de Romandie alongside Chris Froome and his other teammates at Sky, where Sutton previously held the role of head coach, before taking up the technical director role at British Cycling when Dave Brailsford left to focus fully on British WorldTour team.
Andy Harrison, programmes director at British Cycling, will now take over Sutton's role with immediate effect in preparation for the Rio 2016 Olympics.
"The developments over the past few days have clearly become a distraction," Sutton said in a statement on Wednesday. "It is for this reason, and having spoken to friends and family, that I believe it is in the best interests of British Cycling for me to step down from my position as technical director.
"I have made clear that I reject the specific claims that have been made against me in recent days, and I look forward to taking a full part in the review process so I can respond to the allegations in detail."
Thank you for reading 20 articles this month* Join now for unlimited access
Enjoy your first month for just £1 / $1 / €1
*Read 5 free articles per month without a subscription
Join now for unlimited access
Try first month for just £1 / $1 / €1