Bradley Wiggins hoping for strong Sky performance in Giro d'Italia team time trial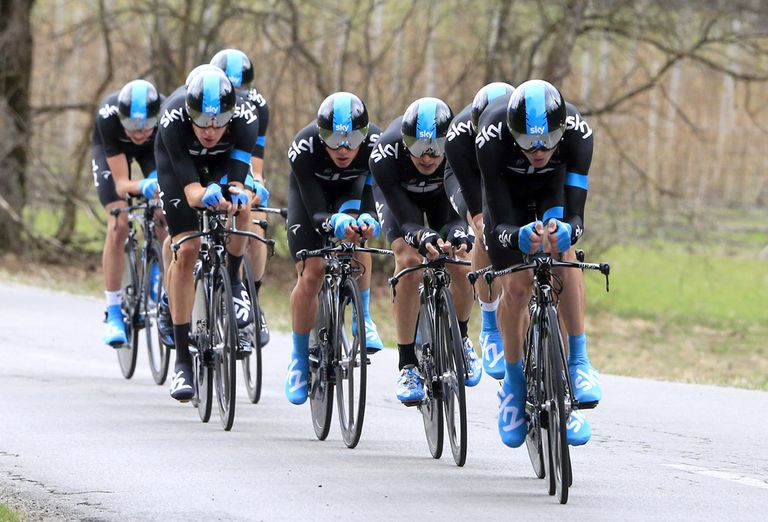 Sky races to win the Giro d'Italia's 21st team time trial today on Ischia in Naples' Harbour. Any time gained on the island will be important to Bradley Wiggins' overall chances in three weeks' time.
"It's going to be difficult, but it's going to be difficult for everyone," Wiggins told Sky television yesterday.
"I don't know [how demanding it'll be], because none of us have seen it yet. We've only seen it in the book. We are going to see it [this] morning when we get there."
Wiggins said Sky have not been training specifically for the 17.4-kilometre test, but that he took encouragement from the team's time trial win in the Giro del Trentino at the end of April.
"We did have a win before we came here two weeks ago in Trentino. We showed some good times there."
Volcanic island
Even if just 30 kilometres away from Naples, the volcanic island has only featured once before in the Giro d'Italia. The organiser held an individual time trial there in 1959. Sicilian Antonino Catalano won the 31km test by 52" over Jacques Anquetil.
Today's time trial runs along the northern coast. It is a technical run from east to west, twisting more than it undulates. If you want to draw similarities, you could compare it to the 2007 start in Sardinia when Liquigas won.
Stats
Last year's Giro champion, Ryder Hesjedal helped Garmin-Sharp win the time trial last year with an average speed of 53.741km/h over 33.2 kilometres. CSC holds the record at the Giro, in 2006 going 56.86km/h.
After a 15-year hiatus, organiser RCS Sport has used the team event every year since 2006. The second big run was 30 years ago, from 1981 to 1989. Prior to that, the organiser used it three times from 1954 to 1956. However, the first one was in 1937, team Legnano won with an average of 43.91 over 60 kilometres from Viareggio to Marina di Massa.
1937: Viareggio - Marina di Massa - km 60, at 43.902 km/h (Legnano)
1953: Autodromo di Modena - km 30, at 47.729 (Bianchi)
1954: Circuito Monte Pellegrino (Palermo) - 36km, at 42.942 km/h (Bianchi)
1955: Genova - Genova - 18.4km, at 46.674 km/h (Torpado)
1956: Genova - Genova - 12km, at 43.910 km/h (Leo - Chlorodont)
1981: Lignano - Bibione, 15km, at 51.282 km/h (Hoonved - Bottecchia)
1982: Milano - Milano, 16km, at 50.130 (Renault)
1983: Brescia - Mantova, 70km, at 53.984 km/h (Bianchi Piaggio)
1984: Lucca - Marina di Pietrasanta, 55km, at 51.388 km/h (Renault)
1985: Busto Arsizio - Milano, 38km, at 54.545 km/h (Del Tongo - Colnago)
1986: Catania - Taormina, 50km, at 46.260 km/h (Del Tongo - Colnago)
1987: Lerici - Lido di Camaiore, 43km, at 54.486 km/h (Carrera)
1988: Rodi Garganico - Vieste, 40km, at 47.524 km/h (Del Tongo - Colnago)
1989: Villafranca Tirrena - Messina, 32.5km, at 52.702 Km/h (Ariostea)
2006: Piacenza - Cremona, 35,m at 56.860 km/h (CSC)
2007: Caprera - La Maddalena, 25.6km at 45.670 km/h (Liquigas)
2008: Palermo - Palermo, 23.6km at 53.366 km/h (Slipstream Chipolte)
2009: Lido di Venezia - 20.5km at 56.336 km/h (Team Columbia)
2010: Savigliano - Cuneo, 33km at 54.073 km/h (Liquigas - Doimo)
2011: Venaria Reale - Torino, 19.3km at 55.186 km/h (HTC - Highroad)
2012: Verona, 33.2km at 53.741 km/h (Garmin-Barracuda)
Related links
Wiggins survives Giro opening stage unscathed
Mark Cavendish wins Giro opener in Naples (report)
Giro stage one photo gallery
Giro d'Italia 2013 coverage index
Giro d'Italia 2013: British TV schedule
Giro 2013: 10 things you need to know
Giro d'Italia 2013: The Big Preview