Bradley Wiggins working on explosive climbing ahead of Giro d'Italia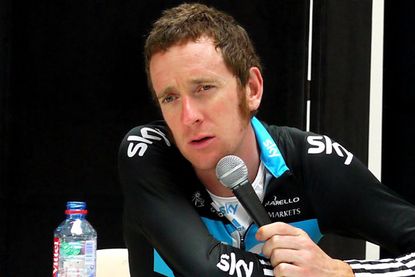 Bradley Wiggins (Sky) is trying to avoid comparisons with last season as he heads into 2013. Instead of the Tour de France, he is taking a different approach and aiming for the Giro d'Italia.
At this point last year, he already took third place in the Tour of Algarve and won Paris-Nice. At the end of April, he won the Tour of Romandy and in June, the Critérium du Dauphiné.
In the four months ahead of the Tour, Wiggins won three major stage races. With the Giro d'Italia quickly approaching, the best result he has is a fifth place in the Tour of Catalonia.
The Giro del Trentino and Liège-Bastogne-Liège are still to come before the Giro starts on May 4 in Naples, but something is very different this year compared to last.
Avoiding comparisons
Wiggins decided after winning the Tour de France and the Olympic time trial that he would do something different for 2013. Instead of racing the same programme and focusing on the Tour again, he would head south to the Giro d'Italia.
"I didn't want to do another year like last year," Wiggins told a small group of journalists including Cycling Weekly at the Tour of Oman.
"I was prepared to sacrifice results from early to ensure we got everything we needed for the race in May. So yeah, obviously, I like to win races but I'm keeping perspective of the early season. I don't need that confidence... It's just different to last year."
Wiggins started his season in the Challenge Majorca (161st and 152nd). He raced the Tour of Oman in support of Chris Froome (74th) and last week, the Tour of Catalonia (5th). With the exception of Catalonia, it is a completely different start.
"It's about avoiding all those things and being [in those races] as defending champ. That's not what I want to do... I didn't want to have that direct comparison... There's only one way, unless I won all [those races] again, and that was to fail. I wanted to avoid that. I didn't want to put that pressure on myself," Wiggins continued.
"The Giro is something I'd really love to try and win. So, it's having a different set of challenges, completely different to last year... [Avoiding] have a direct comparison with last year when the training is different because we're training for a completely different goal."
Getting the kick right
Wiggins has been island hopping between Majorca and Tenerife.
He exercised in the gym every morning before the stages and training in Majorca at the start of the season. He focused on core stability exercises and squatting sessions.
In Tenerife, Spain's highest point at 3718 metres above sea level, he worked on his kick after long and demanding efforts on the side of the Teide volcano.
"We're working more on the explosivity in the climbs. I don't like it. It's the worst part of training. We do a lot of that at altitude; we've been two weeks at altitude doing that," he said in a small press gathering in Catalonia, according to VeloNews.
"Sometimes the stuff you don't enjoy doing, it's the stuff that works. If you only do what you like doing, you have the Bradley Wiggins of 2010."
Wiggins admitted he failed at the 2010 Tour de France. With the new schedule designed to avoid comparisons, this specific training is designed to avoid a Giro flop.
"The Giro climbs are more [explosive]," Wiggins continued. "It's what we've been working on... It seems to be working."
Related links
Wiggins confirms he will aim to win the Giro in 2013
Bradley Wiggins: Rider profile
Thank you for reading 20 articles this month* Join now for unlimited access
Enjoy your first month for just £1 / $1 / €1
*Read 5 free articles per month without a subscription
Join now for unlimited access
Try first month for just £1 / $1 / €1