Giro boss confident Astana case will be settled before May
Mauro Vegni, the Giro d'Italia race director, says Brian Cookson agrees that the Astana licence situation needs to be resolved before the year's first Grand Tour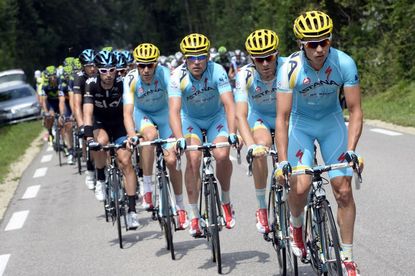 (Image credit: Graham Watson)
Race director Mauro Vegni does not want Astana to spoil his Giro d'Italia race this May as Alberto Contador did when he raced and won in 2011.
Contador tested positive for banned substance clenbuterol in the 2010 Tour de France, but was able to race while the case continued, only to see his Giro title stripped after his appeal to the Court of Arbitration for Sport (CAS) failed.
Vegni met with Brian Cookson, the president of cycling's governing body (UCI), last week to express his concern over Astana's licence situation. After five doping cases - two from the professional team - the UCI requested to its Licence Commission in February that Astana be withdrawn from the WorldTour.
"I asked him not to let the start the Giro start with this case up in the air as was the case with Contador. We can't accept that anymore," Vegni said. "He fully agreed with me and I'm confident the case will be clarified before the start of the Giro d'Italia."
He added: "It's up to others to decide things, but I think the UCI doesn't want to have an unacceptable situation like we had with Contador," Vegni added. "So I hope that UCI works with CAS to the point to making sure that a decision is reached before the start of the Giro."
>>> Astana doctor defends team's anti-doping measures
The Licence Commission is due to hear from Astana in April. If it sides with the UCI, it could strip Astana's WorldTour licence and stop the team from racing.
Another possibility is that it allows the team to continue as a Professional Continental team with the right to ask for wildcard invitations to the Giro d'Italia and Tour de France. With 2014 winner Vincenzo Nibali in its ranks, ASO could open the door and allow the team to enter the Tour.
"If the team loses its WorldTour licence, we need to understand why," Vegni continued. "Only after, we will decide regarding the team. We'll see what commission decides and if they stop [Astana], we will hear then the real decision for that decision. We'll decide and act as a consequence of that.
"Today, Astana can ride the Giro d'Italia. If the verdict is negative, then clearly that puts their participation in doubt.
"If the verdict, instead, is linked to facts from the past, then I don't think I can penalise a team and its riders. But as I said, it's important to understand the verdict."
>>> Nibali: Astana criticisms more about politics than cycling
Italian Fabio Aru, third last year, is due to lead the Astana team when the Giro starts on May 9 in San Lorenzo.
Thank you for reading 20 articles this month* Join now for unlimited access
Enjoy your first month for just £1 / $1 / €1
*Read 5 free articles per month without a subscription
Join now for unlimited access
Try first month for just £1 / $1 / €1