Nibali: Astana criticisms more about politics than cycling
"I'm not worried if our licence is suspended," says Tour de France winner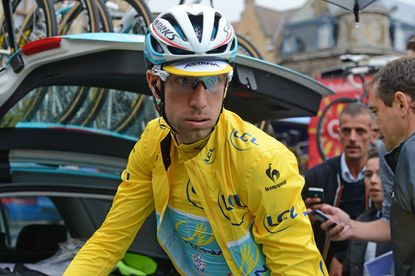 (Image credit: Andy Jones)
Tour de France winner Vincenzo Nibali remains convinced that his Astana team will continue to race through 2015 even if it loses its WorldTeam licence over doping cases.
Cycling's governing body, the UCI, has asked that Astana be stripped of its licence after five doping cases in 2014, including two from its top team, and after an Italian doping inquiry made links to 17 of its cyclists, including current general manager Alexander Vinokourov.
"It's politics," Nibali said ahead of the Strade Bianche on Saturday. "This Astana case has nothing to do with us cyclists.
"We'll see what happens in the next weeks, but I'm not worried because if our licence is suspended. We can still ask for invitations to race.
"The organisers know that we are serious, and that matters," he added. "Our hope would be with them if, in the worst case, we lost our licence."
The 30-year-old Sicilian won the 2014 Tour de France, but if the team lost its racing licence, he would not be able to return to defend his title.
According to a report in French newspaper L'Equipe, Astana will have to present its defence to the licence commission by March 20. The commission could rule in several ways: it could give the Kazakh team the green light to race; it could strip the team of its WorldTeam licence and allowing it to race as a Professional Continental team; or it could prevent any licence being issued and show Astana out if cycling's back door.
Nibali spoke of the scenario where the team lost its WorldTeam licence, but was allowed to take out a Professional Continental licence to race. With such a licence, the team would be able to ask for 'wildcard' invitations to the big races like the Tour de France, Giro d'Italia and the top classics.
The Tour and the Giro organisers have already selected their five wildcard teams, but the loss of Astana might add a vacancy for a further wildcard entry.
Even in that scenario, however, the Tour could snub Astana as it has in the past. Following Vinokourov's boot from the 2007 Tour de France for blood doping, Tour organiser ASO refused to invite Astana to its 2008 race.
If the commission refused Astana a licence for either the first or second division, then Nibali and the rest of the team would have to look new employers. Nibali has never failed a doping test or been investigated, and his palmarès include wins from all three Grand Tours.
Pending the commission's ruling, Astana may continue race. Nibali will line up against Sky's Chris Froome and other top stars in the Tirreno-Adriatico stage race starting Wednesday.
The situation could quickly change depending on the report that is due to be published on Monday by the Cycling Independent Reform Commission (CIRC). The Astana hierarchy will be desperately hoping that there are no further allegations against the team.
Thank you for reading 20 articles this month* Join now for unlimited access
Enjoy your first month for just £1 / $1 / €1
*Read 5 free articles per month without a subscription
Join now for unlimited access
Try first month for just £1 / $1 / €1