Astana doctor defends team's anti-doping measures
Doctor Joost de Maeseneer says Astana's involvement in the MPCC proves the team's commitment to racing clean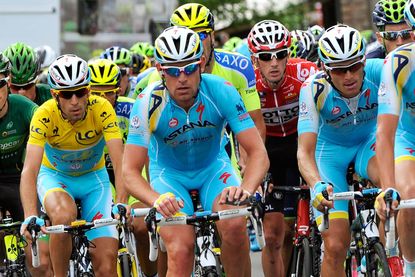 (Image credit: Graham Watson)
Astana doctor Joost de Maeseneer has defended the team's anti-doping policies, claiming that when Vincenzo Nibali wore Tour de France leader's jersey last year he was tested four times in a day.
In an article published on the Kazakh team's website, de Maeseneer says the team's involvement in the Movement for a Credible Cycling (MPCC) means they have to follow strict anti-doping measures.
De Maeseneer's words come after the UCI asked its Licence Commission to withdraw Astana's WorldTour licence after an independent audit threw up anomalies in the team's proceedures.
"We are members of the MPCC to check cortisol levels, we follow the no-needle policy, there are no outside supplements allowed, no outside trainers, we don't use sprays – we think this is a good idea," de Maeseneer explained.
"We joined the MPCC in 2013 – not all the teams in the WorldTour are members of the MPCC, we think this should not be the case.
"It adds to the overall number of blood tests we do in a year. I would say the top riders are tested approximately no less than 50 times per year. Nibali at the Tour was once tested four times in 24 hours."
According to a report in French newspaper L'Equipe, Astana will have to present their defence to the licence commission by March 20. Pending a decision, the team is free to continue race on the WorldTour. On Wednesday, Nibali will lead the team in the Tirreno-Adriatico stage race against Chris Froome, Nairo Quintana and Alberto Contador.
De Maeseneer's team is one of the 11 WorldTour teams that adheres to the stricter, yet voluntary, set of MPCC anti-doping rules. Tea, Sky and five other WorldTour teams – BMC, Movistar, Etixx-Quick Step, Tinkoff-Saxo and Trek – have not joined the movement.
The same movement forced Astana to sit out eight days of competition, including missing the Tour of Beijing last year, because two of their cyclists tested plosive in a 12-month period.
>>> Vincenzo Nibali's Tour de France start in jeopardy as Astana under threat
The UCI wants to streamline the rules so that teams do not follow two different standards. This winter, it introduced a rule to suspend teams over multiple doping cases, which overlaps with the movement's rule.
It does not have the same rule regarding cortisol use, a small but critical difference that would have stopped Froome from racing the Tour de Romandie last year had Sky been a movement member. Froome, who went on to win the race overall, was taking cortisol Prednisone to treat a chest infection.
De Maeseneer, like Astana, has lived through troubled times, however. Tyler Hamilton said in his tell-all book The Secret Race that De Maeseneer gave riders at team CSC illegal prescriptions. In a 2007 interview, Jorg Jaksche said that he and his team-mates took cortisone "all season long" in his 2004 year with team CSC. De Maeseneer responded at the time that the team only worked with "ethical, professional way" and did not use prohibited substances.
The doctor indicated that Astana's doping cases last year, notably those of the Iglinskiy brothers, were isolated events and not part of an organised system.
"Bad things happen, and idiots exist all around the world, even in cycling – two idiots who violated the rules on their own got caught, and the system caught them – that means the system works," he added.
"The team has everything in place for riders who want to succeed without doping."
Thank you for reading 20 articles this month* Join now for unlimited access
Enjoy your first month for just £1 / $1 / €1
*Read 5 free articles per month without a subscription
Join now for unlimited access
Try first month for just £1 / $1 / €1