The Secret Race by Tyler Hamilton: Book review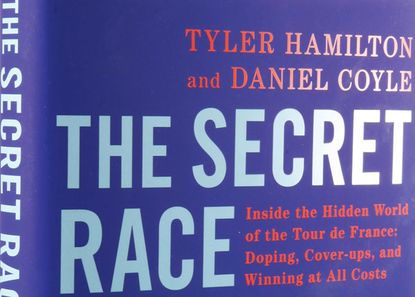 It's been billed as the 'game ender,' the book that lifts the lid on the systematic and institutionalized doping regime behind the US Postal Service team's domination of the Tour de France with Lance Armstrong at the helm.
Read Hamilton's book, reviews have exclaimed just weeks after the Texan decided not to contest the US Anti-Doping Agency's (USADA) decision to strip him of his seven Tour titles, and it will be impossible to believe that Armstrong didn't dope.
Put simply, the book lives up to the hype. Not only does it identify the illegal methods and substances behind Armstrong's wins, it unveils a sport soaked in a culture of performance enhancing drugs through the lens of an entire sporting career.
Hamilton: dragged into a dirty world of doping, denial and duplicity
From Hamilton's first encounters with doping as a wide-eyed and naïve neo-pro, through to his almost blasé use of a banned anti-depressant as he attempted to salvage the wreckage of his career following a two-year suspension for a blood transfusion, doping is an ever present normality for professional cyclists during the turn of the millennium.
The clarity and detail of Hamilton's memory is quite remarkable. The lack of smudges or omissions tempts you to treat the narrative as a work of fiction until Daniel Coyle's explanatory footnotes and interviews with former riders jolt you back down to earth.
Yet limiting the book to a chronicle of cheating misses the most intriguing element; the book is a profound assessment of Armstrong's character, told through the turbulent crests and troughs of Hamilton's complex relationship with his idol, mentor, friend, adversary, and bully.
What really gives the book its power, though, is that it is not just Hamilton's version of events. It is an answer booklet to the questions and uncertainties that have swelled around cycling in recent months and years. In fact there is only one question it doesn't answer.
Is it still possible to believe Armstrong didn't dope?
Notes on a scandal: Tyler Hamilton on...
The UCI
Cover-ups, an unwillingness to catch dopers, and a more than cosy relationship between Armstrong and former president Hein Verbruggen; Hamilton is scathing of the UCI throughout the book.
As did Floyd Landis, he alleges that Armstrong tested positive for EPO during the 2001 Tour of Switzerland, but that Armstrong "had meetings with people at the lab and it all went away."
'Hein' (the two were on first name terms) was often at Armstrong's beck and call. He even allegedly called Hamilton to the UCI's headquarters for a meeting to discuss suspicious blood values on Armstrong's instruction, after Hamilton beat Armstrong in the Mt Ventoux time-trial at the 2004 Criterium du Dauphine.
Floyd Landis
Routinely described as a 'Mennonite kid,' Hamilton sees Landis as a man of both conviction and resolve, in many ways an equal to Armstrong. He's an oddball who questions the rules, skateboards into town and once drank 14 capuccinos in one sitting, but has a strong sense of what is right and wrong.
"What bothered Floyd wasn't the doping. What he hated - what his soul raged against - was unfairness. The abuse of power. The idea that Lance was purposefully depriving Floyd of an opportunity to compete." It's poetic justice, for Hamilton, when Landis is the one who finally blows the whistle on Armstrong with his email to USADA.
Landis [left]: cappuccino-quaffing individualist
Beating the anti-doping authorities
Hamilton dismisses the 'arms race' between doctors and anti-doping authorities with tales of evading testers that are almost comical in their simplicity. Even assuming authorities could test for certain substances, jumping to the floor when a tester came to the door and you were 'glowing' (had used a banned substance recently enough to give a positive test) would delay the test by a day and give you enough time to fudge a whereabouts form and drink enough to flush out your system.
"If you were careful and paid attention, you could dope and be 99% certain that you would not get caught."
Armstrong's dictatorship of US Postal
One incident, where Armstrong ate three slices of chocolate cake at dinner one evening on a team training camp, stands out. As Armstrong chewed away the riders around the table looked nervously at each other; although an easy ride was scheduled for the following day, they all knew Armstrong would force the team to ride hard to burn off his transgressions.
Armstrong wasn't just at the top of the team; he was the team.
Tour boss Jean-Marie Leblanc faces up to festina in '98
Armstrong's belief that he had the right to win
Armstrong, the strong character who had overcome cancer, was unable to deal with the possibility that he might not win a race, no matter how hard he worked.
"He couldn't let go of this idea that he was destined to be champion," says Hamilton, "and he couldn't let go of the power that allowed him to control his performances so precisely."
This accounts for Armstrong's control of the team and his exceptional status at the top of the pile. Along with Johan Bruyneel and Dr Ferrari he maintained a total control over his numbers, his training, his equipment and his bubble of superiority.
Hamilton explains it through Armstrong's motto: "whatever you're doing, those f*****s are doing more."
Doping after the Festina affair
After a Festina team soigneur, Willy Voet, was caught by French police with a car full of EPO and other doping products at the 1998 Tour, doping ceased to be on team programmes where vials of EPO would be stored on team buses and handed out after races.
Riders now had to take the much more risky and unpredictable route of sourcing their own substances, so Armstrong and Hamilton engineered a unique solution.
Armstrong's French gardener, Philippe, followed the 1999 Tour on a moped equipped with a coolbox full of supplies for three riders: Armstrong, Hamilton, and fellow USPS rider Kevin Livingston. 'Motoman,' as the three called him, was able to zip through the traffic and deliver his packages of Edgar (their nickname for EPO) without delay and without capture.
The empty syringes would then be slotted into a Coke can, crushed up, and stuffed into the backpack of USPS's Dr Del Moral before he walked off, an anonymous figure in the crowds, to dispose of it elsewhere.
Dr Eufemiano Fuentes
A debonair and ebullient Spanish doctor who ended up at the heart of Operation Puerto, Hamilton claims Bjarne Riis recommended Fuentes to him when he left USPS at the end of 2001. Fuentes and his assistant Bartres were to provide EPO, testosterone, and organise blood transfusions.
With code words and pre-paid phones, Hamilton's relationship with Fuentes was fleeting and pragmatic. It worked, until Hamilton tested positive for a homologous transfusion in 2004: someone else's blood was in his system.
It transpired that, although Hamilton had been transfusing his own blood (an autologous transfusion), Fuentes or Bartres may have mis-labelled bags of blood in their Spanish clinic as they froze them for storage - a complex and drawn-out procedure. Unbeknownst to Hamilton before Puerto was the true extent of Fuentes' list of clients and Bartres, a septuagenarian haematologist at a Madrid hospital, was later revealed to suffer from dementia.
Altered Memories: A different perspective
Words: James Shrubsall
I have a confession: I enjoyed Lance Armstrong's Tour de France reign immensely. While many saw the US Postal team, headed by the Texan, as slowly strangling the life out of the race, I saw it as a spectacular demolition.
Every year I looked forward to the first mountain stage, where the Blue Train would hit the front and take the field apart. An awesome display of power. We know now where it came from.
That Hamilton - whatever you might think of him - is telling the truth can no longer be in any reasonable doubt. For a start, the book is co-authored with respected writer Dan Coyle, who has been diligent in corroborating Hamilton's claims. And Coyle includes his own commentary alongside Hamilton's words, as well as interviews with other Postal riders.
What Hamilton describes, in an utterly matter-of-fact way, is a sport which is run through with doping like words through a stick of rock. A sport in which trying to contest a Grand Tour without blood doping would be nonsensical, unthinkable. Yes, The Secret Race is about Lance Armstrong, but it is more about Hamilton himself. What's more, it is about CSC and Phonak, how doping was essentially institutionalised all the way up to Operacion Puerto.
Armstrong: tarnished icon
There is a poignancy to the first few chapters, as we read about the innocent young guy who simply wanted to race his bike, wasn't interested in dope, or lies. Comparing Hamilton's lot over the last few years - depression, more positives, ridicule, all but cast out of the sport, to Armstrong's - rich beyond imagination, friends in the highest places, loved the world over, and you can't help but feel sorry for Hamilton, who certainly did no worse than Armstrong.
But unlike with some cycling memoirs, there is no bitterness from Hamilton. Just a desire to get some very dark secrets off his chest - something he does so with complete clarity and apparent lack of agenda. He doesn't even claim to feel a huge amount of guilt, except perhaps for deceiving his parents.
The Secret Race answers many questions, but it also throws up a new, unsavoury one. Namely, if cycling was so completely rotten, and so many of the same people are still in the sport - both as riders and management - how clean can it really be in 2012?
This article was first published in the September 20 issue of Cycling Weekly. You can also read our magazines on Zinio and download from the Apple store.
Thank you for reading 20 articles this month* Join now for unlimited access
Enjoy your first month for just £1 / $1 / €1
*Read 5 free articles per month without a subscription
Join now for unlimited access
Try first month for just £1 / $1 / €1