Salvatore Puccio: Surprised and pleased with Giro d'Italia lead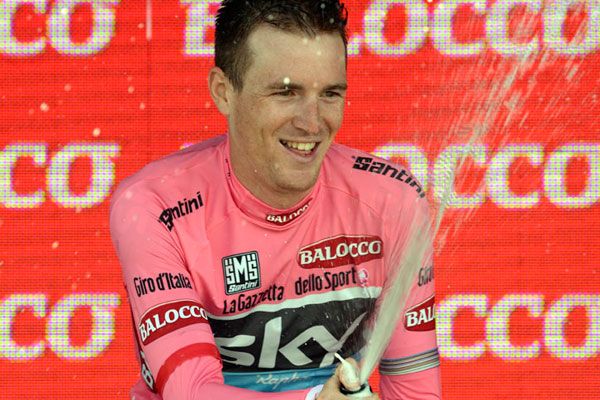 Sky's Salvatore Puccio never imagined that at the end of today he would be wearing cycling's famous pink jersey. Designed by Paul Smith, blessed by the Pope and tonight, tucked under Puccio's pillow, it is a perfect way for a 23-year-old Italian to debut in the Giro d'Italia.
"I hope I can keep it for a long time, but clearly it won't happen... It'd be a dream come true to arrive to the next time trial [on Saturday] in it," Puccio said to journalists near Forio's port. "I'll at least have it for tonight. I'll keep it safe under my pillow."
Italian time trial champ, Dario Cataldo led Sky over the line and to win the second stage, a 17.4-kilometre on the north of Ischia. The team discussed last night that he would cross first and give himself a chance to take the maglia rosa.
No one bothered to think Cataldo, Puccio and the other two riders that crossed with leader Brad Wiggins would be on the same time. The jury had to give the jersey to the best-placed Sky rider in yesterday's opening stage. Puccio placed 33rd, Cataldo 84th.
"It happened so fast. About two minutes before we went up on the podium to receive the award for the stage win, [team press officer] Dario Cioni told me that I took the pink jersey. I was surprised. Brad was a little surprised, too, but I think he's happy," Puccio added.
"It's means a lot. After two years working for the team, today I took a big personal win. Everyone dreams of this jersey. Whoever races dreams of taking part in the Giro and wearing the pink jersey."
Puccio attacked the attention of Sky's principal by winning the Under 23 Tour of Flanders in 2011. He turned pro in last year with Sky. Besides this day and wearing the pink jersey, he dreams of winning a classic, specifically the professional Tour of Flanders.
Related links
Sky wins Giro d'Italia team time trial
Stage two photo gallery
Wiggins hoping for strong Sky performance in Giro TTT
Wiggins survives Giro opening stage unscathed
Mark Cavendish wins Giro opener in Naples (report)
Giro stage one photo gallery
Giro d'Italia 2013 coverage index
Giro d'Italia 2013: British TV schedule
Giro 2013: 10 things you need to know
Giro d'Italia 2013: The Big Preview