Giro d'Italia: The pain of a long-distance solo break
The solo breakaway is a gamble that rarely pays off, but is one a lot of riders are willing to take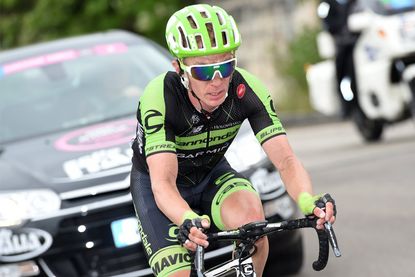 A Giro d'Italia win so close or so far? It is hard to understand what goes through a cyclist's head when he attempts to blow away his rivals and arrive solo.
On the ninth stage of this year's Giro, Tom-Jelte Slagter (Cannondale-Garmin) was part of an 11-man breakaway that escaped with more than 150km still to go. Slagter left the rest of the group with 60km left after what had already been a brutal stage — and despite a lead over the peloton of almost seven minutes at its peak, he was caught by Astana's Paolo Tiralongo with around 5km to go.
"I'll think about this for a long time, what I could have done differently," Slagter told Cycling Weekly after he crossed the line in seventh place, around 30 seconds ahead of the main GC contenders.
Today's stage was always going to be hard, with around 4,000 metres of climbing and 215 kilometres from Benevento to San Giorgio del Sannio. It received four out of five stars in the organiser's road book.
Due to road problems, organiser RCS added on nine kilometres to extend the already tough day to 224 kilometres. Any effort in such a day was going to be a massive one.
"This stage was in my mind for some time," 25-year-old Slagter, winner of two Paris-Nice stages, added.
"If it's all day up and down with long climbs, there are a lot of people better than me, but today there were just one or two climbs which were really hard. I can manage that. And the finish was nice for me."
>>> Paolo Tiralongo wins stage nine of the Giro d'Italia, as Contador stays in pink
His advantage over the small chase group with Hesjedal and Tiralongo hovered between one minute, 30 seconds and one minute, 40 seconds. Behind, British team director Charley Wegelius was giving him updates on the course and his time gaps, but that was it.
"You just have to manage your ride on feeling," Slagter said. "If you go too fast you f**k yourself, I was just trying to ride on the limit the entire time, that's it."
Slagter talked with Hesjedal about what he could have done differently, but there may have been nothing to do to stop Tiralongo.
"It wasn't that Slagter failed, it was more Tiralongo's legs that made the difference," Astana's team manager, Giuseppe Martinelli, said.
"After 50 kilometres, you start to pay. He maybe asked too much of his capabilities. If it was completely flat, OK, but with the profile of today's race…"
Slagter rolled back towards the finish line for an anti-doping test. Tomorrow, the race enjoys the first of its two rest days, a chance for the vanquished solo rider to think about his effort and the many more long days ahead.
Thank you for reading 20 articles this month* Join now for unlimited access
Enjoy your first month for just £1 / $1 / €1
*Read 5 free articles per month without a subscription
Join now for unlimited access
Try first month for just £1 / $1 / €1