Twitter goes into meltdown over Contador helmet removal
Twitter users cry foul over Alberto Contador breaking UCI rules by taking his helmet off mid-race, but no-one seems entirely sure what the punishment should be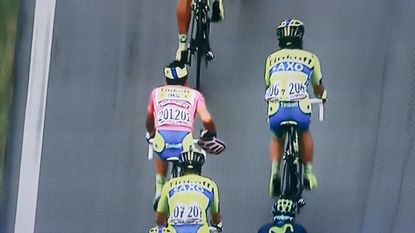 After Wheelgate, or Portegate, or Aussiegate or whatever someone named Tuesday's incident, in which Team Sky's Richie Porte was docked two minutes at the Giro d'Italia for accepting a wheel from Orica-GreenEdge's Simon Clarke, Twitter users have been all over the UCI about applying rules consistently.
But just to make matters worse and send everyone who cares enough into a mini-frenzy, race leader Alberto Contador was spotted riding on Wednesday's stage 11 with no helmet, as he put on his hat underneath.
Helmets are mandatory, everyone knows that, but there seems to be some confusion over what the exact punishment should be...
Well, actually it's technically an automatic DQ. But this is still cycling, so it's unlikely much of the internet will really be going wild.
But it's still important enough to be written fully in caps lock, even if you're not sure about the actual rules...
...which is not two minutes. But is it part of Bertie's grand plan? (Probably not).
Still, if there's one thing you can rely on with Twitter, it's that there's always someone out there ready to pull you up on previous comments.
This whole business has even spawned it's own hashtag.
With all these possible DQs and sanctions, it could be Cheng Ji's one and only chance to get on Grand Tour podium.
Meanwhile, a bike race continues to happen.
Thank you for reading 20 articles this month* Join now for unlimited access
Enjoy your first month for just £1 / $1 / €1
*Read 5 free articles per month without a subscription
Join now for unlimited access
Try first month for just £1 / $1 / €1