Gold for GB men, silver for women team sprinters in Melbourne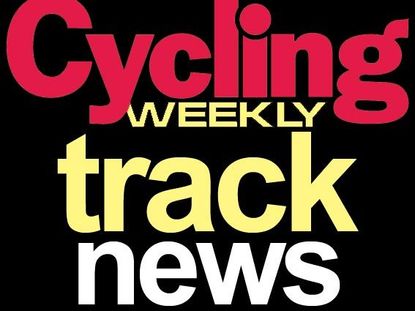 Great Britain team sprinters Sir Chris Hoy, Matt Crampton and Jason Kenny scored a gold medal in the opening day of the UCI Track World Cup in Melbourne, Australia, on Thursday.
GB came up against the New Zealand trio of Edward Dawkins, Ethan Mitchell, Sam Webster to record a time of 43.829 to NZ's 44.339. The Jayco-Australia squad took bronze against Germany.
Earlier the British pair of Victoria Pendleton and Jess Varnish won a silver medal in the women's team sprint. Pendleton and Varnish were beaten by Chinese pair Jinjie Gong and Shuang Guo in the gold medal final. China clocked 33.240 to GB's 33.562. France overcame the Netherlands to win bronze.
The Australian trio of Katherine Bates, Sarah Kent and Josephine Tomic struck a home win in the women's team pursuit, out-riding the German squad of Charlotte Becker, Lisa Brennauer and Madeleine Sandig. New Zealand beat Canada to take bronze. Great Britain did not enter a squad in the event.
Omnium world champion Ed Clancy's campaign started well with a win in the opening round of the men's omnium, the flying lap. Clancy then faltered slightly in the omnium points race, placing twelfth behind winner Eloy Teruel of Spain. The Brit then finished fifth in the elimination race.
Clancy lies in second spot six points behind Shane Archibold (New Zealand) in the omnium leader board, with three disciplines to go - individual pursuit, scratch race and time trial.
Australian duo Cameron Meyer and Leigh Howard gave an imperious display in the men's Madison, gaining a lap on the field and earning themselves the gold. New Zealand took silver, with Netherlands in third.
The Melbourne Track World Cup runs from December 2-4.
Results

Men's team sprint (final)

1. Great Britain (Hoy, Crampton, Kenny) 43.829
2. New Zealand (Dawkins, Mitchell, Webster) 44.339
3. Jayco-Australia (Ellis, Niblett, Perkins) 44.545
Women's team sprint (final)
1. China (Gong, Shuang) 33.240
2. Great Britain (Pendleton, Varnish) 33.562
3. France (Clair, Sanchez) 33.655
Women's team pursuit (final)
1. Australia (Bates, Kent, Tomic) 3-22.17
2. Germany (Becker, Brennauer, Sandig) 3-23.166
3. New Zealand (Boyd, Ellis, Nielsen) 3-23.477
Men's omnium: Round 1, Flying lap
1. Edward Clancy (Great Britain) 13.059
2. Tim Veldt (Netherlands) 13.249
3. Zachary Bell (Canada) 13.250
4. Shane Archibold (New Zealand) 13.452
5. Jan Dostal (Czech Republic) 13.499
Men's omnium: Round 2, Points race
1. Eloy Teruel (Spain) 70 points
2. Carlos Uran (Colombia) 51 points
3. Zachary Bell (New Zealand) 48 points
4. Niki Byrgesen (Denmark) 46 points
5. Shane Archibold (New Zealand) 44 points
...
12. Edward Clancy (Great Britain) 13 points
Men's omnium: Round 3, Elimination race
1. Tim Veldt (Netherlands)
2. Jian Dostal (Czech Republic)
3. Luis Mansilla (Chile)
4. Shane Archibold (New Zealand)
5. Edward Clancy (Great Britain)
Men's omnium: Standings after three rounds
1. Shane Archibold (New Zealand) 13 points
2. Edward Clancy (Great Britain) 19 points
3. Zachary Bell (Canada) 21 points
4. Eloy Teruel (Spain) 21 points
5. Jan Dostal (Czech Republic) 24 points
Men's Madison
1. Australia (Meyer, Howard)
2. New Zealand (Gate, Simpson)
3. Netherlands (Stopler, Schep)
Related links
GB squads for Mebourne and Cali World Cups
GB sends full-strength men's squad to Melbourne World Cup
Thank you for reading 20 articles this month* Join now for unlimited access
Enjoy your first month for just £1 / $1 / €1
*Read 5 free articles per month without a subscription
Join now for unlimited access
Try first month for just £1 / $1 / €1