Hattie Harnden seals British cyclocross title on elite debut
With Nikki Brammeier and Helen Wyman recently retired, the race was wide open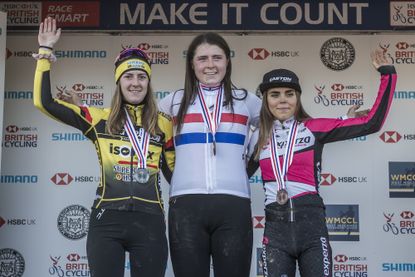 The baton was officially passed in the 2020 women's British Cyclocross Championships, as Hattie Harnden took victory during her debut in the elite race.
Harnden (T-Mo Racing) was locked into a tight battle with Beth Crumpton and only secured victory in the final lap.
The elite women's race was a changing of the guard, after multiple national champions Helen Wyman and Nikki Brammeier both retired within the last 12 months.
Harnden set a strong early pace, getting a gap that was then closed down by Crumpton.
Speaking after her victory, Harnden said: "I'm absolutely gobsmacked. This is something I always dreams of doing, but not now, not this young."
"I think I went off a little too fast – I was a bit excited. I was very nervous for this race – there are a lot of good riders in the UK and I got a bit tired when Beth caught me up, but I just found a bit of energy at the end.
"She was much stronger at the running than me, and whenever we ran she'd come flying past me, but in the woods I was slightly faster, and I knew if I went into the woods first on the last lap I could open enough of a gap to get me to the finish."
Harnden adds the elite British jersey to the junior National Championships she won last year.
In an Instagram post, she said: "My first elite cyclocross National Championships and my first title.
"What a tough battle with Beth Crumpton who has now killed my running legs for the next few days.
"Was amazing to have so many spectators there cheering, made for a great atmosphere."
>>> Tom Pidcock 'hit a pole twice and fell over once' but still defends National Cyclocross Championship jersey
Crumpton (Tartaletto-Isorex) secured silver, while rising start Anna Kay (Experza Pro CX) claimed third.
The elite and under-23 women's races were combined, so 19-year-old Harnden also took the U23 title for the year.
In the women's junior ranks, Millie Couzens (PH-Mas/Paul Milne Cycles) claimed victory.
Elite women's British National Cyclocross Championships 2020 results
1. Hattie Harnden (T-Mo Racing), in 42-06
2. Beth Crumpton (Tartaletto-Isorex), at 14s
3. Anna Kay (Experza Pro CX), at 1-11
Thank you for reading 5 articles this month* Join now for unlimited access
Enjoy your first month for just £1 / $1 / €1
*Read 5 free articles per month without a subscription
Join now for unlimited access
Try first month for just £1 / $1 / €1