Hutchinson wins Hitchin Nomads 25 ahead of National 25 Champs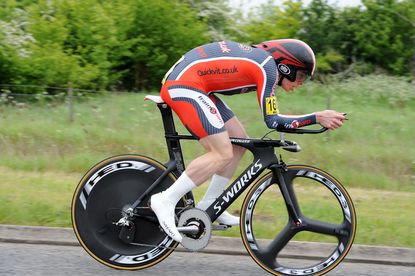 There were some strong performances in time trials across the country as the top riders prepared for next Saturday's National 25-mile Championships.
National 10-mile champion Michael Hutchinson warmed up for the 25-mile title race with a convincing victory in the Hitchin Nomads CC 25 at Guilden Morden in Cambridgeshire on Saturday.
The In-Gear Quickvit RT rider clocked 50-16 to take victory by more than five minutes from his nearest rival, Team Milton Keynes' Ross Clarke, while Trevor Burke (Finchley RT) was third.
Second to Hutchinson by 19 seconds in the National 10 last month, Matt Bottrill (Drag2Zero.com) proved an easy winner of the Mapperley CC 10 on Saturday. He clocked 19-49 to take the win by almost a minute from Witham Wheelers' James Coleman.
Despite a wind-swept day Bottrill's performance equalled his own course record, and he said afterwards: "I came here in quite a relaxed mood, put no pressure on myself and produced a good ride.
"The National 25 is my main goal for the year. It's going to be a great battle with Hutchinson and Dowsett. I know I've prepared the best I could've done, and will be riding the best equipment out there, so it will all come down to luck on the day."
Elsewhere, Rob Pears (Bath CC) won the Somer Valley CC 19-mile event at Bruton in Somerset, clocking 43-21 to win by almost a minute from Cavalier CC's David Kiddell, while Somerset Road Club's Dean Robson took third.
Also using non-standard distances were the West London CA, who staged their 30-mile event at Bentley in Hampshire.
Richard Simmonds led a one-two for the London Dynamo, clocking 1-02-19 to take the win from club-mate Martin Williams by 25 seconds, while Steve Whitewick (Contre La Montre) took third, just one second further back.
North of the border, Peter Ettles was crowned North of Scotland 10-mile Champion after a good ride in the title race at Forres. His time of 21-57 gave him victory by the narrowest of margins over Leslie Bike Shop's Rab Carson.
Conditions were fine and dry, but a stiff north easterly wind made it tough going on the outward leg.
Earlier in the week, Carson had warmed up for the Championship race with victory in the weekly Fife CA 10 at Cleish, where he won by six seconds over Perth United's Steve Davidson.
Elsewhere, the 100 Per Cent ME trio of Joe Kelly, Owain Doull and Alistair Slater won the team prize in the Dukinfield CC 25 at Goostrey in Cheshire, but they were denied the solo win with Manchester Wheelers' Simon Bridge clocking 52-04 to win by 54 seconds from Kelly.
Related links
Time trial news section
Thank you for reading 20 articles this month* Join now for unlimited access
Enjoy your first month for just £1 / $1 / €1
*Read 5 free articles per month without a subscription
Join now for unlimited access
Try first month for just £1 / $1 / €1