'I'm not walking blind through the world... this year has been a struggle': What next for Marcel Kittel?
After a short, winless Tour and a public dressing down from his DS, John Woodhouse asks 'what's next for Marcel Kittel?'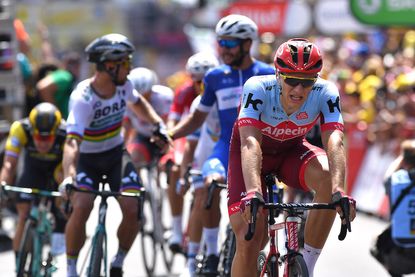 (Image credit: Getty Images)
"I don't want to sound pessimistic but the next days are very, very hard and nobody should take it for granted that Paris is already around the corner. Anyone can have a bad day and it can happen very quickly that you're not on the race any more."
Looking back, Marcel Kittel's words on the rest day in Albertville ahead of the Alps look somewhat prophetic, a clear warning of what was to come two days later when he missed the time cut on stage 11 to La Rosière. While few sprinters made it through the Alps, the Marcel Kittel of 2018 was never the same as the five-stage winning machine of 2017.
Frustrated, angry, lost in despair at a race of failure — the only time Kittel made a splash in the French press was before stage eight when Katusha directeur sportif Dimitri Konyshev branded his star rider "egotistical", complaining that the money spent had produced little more than a boy-man who played pointedly with his mobile phone during pre-stage meetings.
Behind the scenes in the Katusha-Alpecin camp, the scene was slightly different. Kittel is slumped in a 'loungie' at the rear of a hotel, happily having pictures taken with suitably wowed passers-by. He chats happily with a German couple delighted by his presence.
"I'm sure you have better things to do than pose for photographs with us," they tell him. "It's fine " he replies. "Why are you here? Where are you from?"
At the start of the year, it looked like Kittel was set to repeat his domination of the 2017 Tour, where he took five stages for Quick-Step, in so doing becoming one of cycling's most in-demand figures.
He looked likely to close in on Mark Cavendish's tally of 30 sprint wins as he slid into the Katusha-Alpecin gear with 14 under his casquette. Instead he has faded.
So what has gone wrong for Kittel? Why the plummet from king of the fastmen to also-ran? The German, a quiet, measured, and respectful man in conversation, has his eyes well and truly open to the issues that affect him.
"I am not walking blind through the world," he considers. "There has been a lot of pressure on me and I know that this year has been a bit of a struggle. It was pretty clear that the Tour de France was not going to be a walk in the park."
Kittel is referring to a season in which the Katusha sprint train has looked more like a disparate collection of shunting wagons than an unstoppable locomotive.
Lack of time, and injuries to key riders, means Kittel has found himself amid a series of derails. He was keen, though, to emphasise that his lead-out team at the Tour de France was not the real problem.
"It's too easy to blame the sprint train," he insists. "It's a combination of a lot of things. We tried to be up there from the beginning of the year but things went wrong for us. We lost Marco Haller to injury [Katusha's Austrian lead-out man smashed his knee in training]."
Like strikers in a football team, an instinctive knowledge of your team-mates is vital. But Katusha has been left with a stranded frontman. To add insult to injury, his former team Quick-Step Floors have found a golden boot winner in Colombian Fernando Gaviria.
Compromised lead-out
Katusha sprint train member Rick Zabel elaborates: "It's not been easy for sure. Marco's missing and we lost Tony Martin [the German powerhouse crashed out on stage eight]. If you look at the stages Marcel won last year, a lot of the time he came from behind. For this Tour, we tried to follow that plan. He told us that at 500m to go he wanted to be in 10th position. On the first stage when he finished third, that worked OK. On the fourth stage it was a good job too. Of the other days in that first week, I wasn't there one day, Tony wasn't there another, I was involved in a crash another day.
"If you only have four guys and one or two are missing it's very hard to bring someone through in the last kilometre."
Sprints, however, are won not just by physical prowess, but in the mind. "It's funny," notes Zabel. "You might think a guy who has won five stages in one Tour wouldn't need a confidence boost. But that's also what makes Marcel human."
Haller agrees. "Everybody relies on confidence to perform well," he says, "and winning is the best thing to gain confidence. If you don't win for a certain time, it gets tougher and tougher. It's about keeping working and finding a solution that brings us back to our winning ways."
Kittel himself states: "It's fair to say that performance doesn't always exist just with physical performance — there are also mental aspects."
The Kittel/Haller combination is one in which both parties have confidence. The pair have a connection and at the Tour it is missing. "Pro cycling is a constantly moving business," notes Haller, "but when you have a good connection with someone, it is a long-term thing."
Add that to the fact that bad luck tends to stick in sport and you've got a recipe for low spirits and frustration. The kind that expressed itself through Konyshev's outburst and an angry Kittel throwing his bike around and shouting on the bus.
"Most of the sprinters I know are like that," says Zabel. "It would be odd if he walked on to the bus and said, 'Great, I am happy to be 17th.'"
Kittel's hunger would now also appear to be for the head of Konyshev, following the Russian's stinging criticism. "It was very surprising to see that in the news when he has the chance to talk to me directly every day," says Kittel.
"It certainly doesn't make things easier."
"It definitely didn't help," adds Zabel. "If there's a problem, then the worst way to deal with it is like this. If you have a problem then you keep it internal."
For Katusha this will be seen as another Tour that got away. Ilnur Zakarin fell short of the competition in the mountains, while Kittel spectacularly failed to fire. Indeed, fighting on two fronts in the new eight-man team format of the Tour might have simply been an ask too far.
Roadside at the Col de la Colombière, some fans felt the Kittel era might be over. "I am a big fan of Kittel," says 18-year-old Dutchman Cedrec Louwers, "but we are now looking at a new generation — Gaviria, Dylan Groenewegen…."
It is appropriate that Kittel should wear the branding of Alpecin. Team Katusha could certainly do with a caffeine hit — shampoo or otherwise.
This article was originally published in Cycling Weekly magazine, July 26 issue
Thank you for reading 20 articles this month* Join now for unlimited access
Enjoy your first month for just £1 / $1 / €1
*Read 5 free articles per month without a subscription
Join now for unlimited access
Try first month for just £1 / $1 / €1