Katusha-Alpecin's Marco Haller facing long lay-off after collision with car on training ride
The Austrian was riding with his compatriot Bernhard Eisel when the car collided with him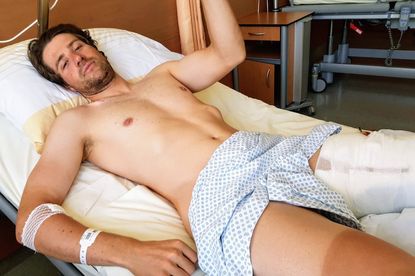 Katusha-Alpecin's Marco Haller will face a long stretch on the sidelines and miss the 2018 Tour de France after being hit by a car on a training ride in his native Austria.
The 27-year-old, who would have formed a key part of sprinter Marcel Kittel's lead-out train for the Tour, suffered multiple fractures to the left knee after the car hit him from the right hand side.
>>> Hit by a car four days ago and still on track for the Giro: George Bennett's incredible comeback at Tour of the Alps
Haller was riding with fellow Austrian Bernhard Eisel (Dimension Data) in Carinthia on a slight downhill when the incident took place. Haller was taken to the Landeskrankenhaus hospital in Villach where he was diagnosed with a double fracture of the knee cap, with further tests showing a fracture of the lateral side of the left femur.
"It was my second day back on the bike, after I had to recover from a second viral infection in the 2018 season," Haller said.
"I was riding with Bernie Eisel and was sitting in his wheel in a slight downhill, when suddenly a car, ignoring the stop sign, came at us from the right. Bernie just managed to escape him, but I could not do that and hit the driver's door at full speed.
"My bike was completely destroyed and my knee as well."
Katusha have yet to give a timeline on Haller's possible return to competition, but he will now begin rehabilitation at the at the Therapiezentrum Hans Friedl in Munich.
Haller said that on top of the disappointment of missing the Tour, he was also downcast about what he viewed as a continued negative attitude of some car drivers towards cyclists.
"I am very disappointed," added Haller.
"Not only at missing the Tour de France but also because of - again - the attitude of some car drivers. Cars and cyclists share the road but this seems to be more and more difficult. Some mentality needs to change,"
Thank you for reading 5 articles this month* Join now for unlimited access
Enjoy your first month for just £1 / $1 / €1
*Read 5 free articles per month without a subscription
Join now for unlimited access
Try first month for just £1 / $1 / €1