'Irresponsible and ill-informed': Team Sky hit back at Bernard Hinault after comments on Chris Froome
Hinault said the Tour de France peloton should go on strike if Froome starts the Tour de France with his salbutamol case unresolved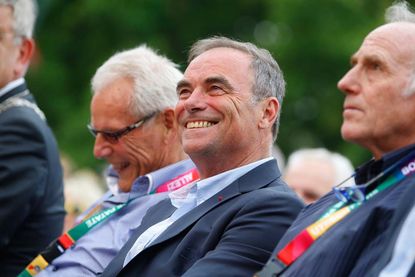 (Image credit: Watson)
Team Sky have hit back at comments made by French cycling legend Bernard Hinault about Chris Froome's ongoing salbutamol case.
Five-time Tour de France winner Hinault said on Wednesday that riders in the 2018 Tour de France peloton should go on strike if Froome starts the race on July 7 in Vendée.
>>> Everything you need to know about Chris Froome's salbutamol case
"If the international authorities don't sanction him it's up to the other cyclists to shoulder the responsibility," Hinault said.
The 63-year-old previously said Froome was "not a legend" of the sport despite his impressive fight back to win the 2018 Giro d'Italia in May.
Sky, responding to the comments made by Hinault, said he was "irresponsible and ill-informed" and found his words "disappointing".
"It is disappointing that Bernard Hinault has, once again, repeated factually incorrect comments about a case he clearly does not understand," a Team Sky spokesperson said.
"His comments are irresponsible and ill-informed. Chris has not had a positive test, rather an adverse analytical finding for a prescribed asthma medication. As an ex-rider himself, Bernard will appreciate the need for fairness for each and every athlete. And at the current time, Chris is entitled to race."
Froome has continued to race since information was leaked in late 2017 about his adverse analytical finding for asthma drug salbutamol at the 2017 Vuelta a España, which he won.
The four-time Tour winner tested over the permissible amount for the drug, but as a 'Specified Substance' under UCI Anti-Doping rules, it doesn't come with an automatic provisional suspension.
Froome and Team Sky would normally then be entered into a confidential process to try and explain why the substance appeared in his sample, however the leaks last year have meant Froome has come under pressure not to continue racing despite being allowed to do so by the governing body's rules.
Sky added that they were "fully-focused" on the upcoming Tour and reiterated a point made numerous times by Froome that "no one wants resolved more quickly than Chris and the team."
"This process would normally be confidential to protect the athlete and establish the facts" Sky said.
"Unfortunately, it was leaked. However, both Chris and the team are following the process that has been put in place by the UCI.
"It is clearly a difficult situation which no one wants resolved more quickly than Chris and the team.
"Chris and Team Sky are fully-focused on the upcoming Tour de France and won't let these uneducated comments affect our preparation for the greatest race in the world."
Thank you for reading 5 articles this month* Join now for unlimited access
Enjoy your first month for just £1 / $1 / €1
*Read 5 free articles per month without a subscription
Join now for unlimited access
Try first month for just £1 / $1 / €1