It's 'impossible' to use a motorised bike in the WorldTour, claims Romain Feillu
French rider says that the number of mechanics in a team means a huge level of corruption would be required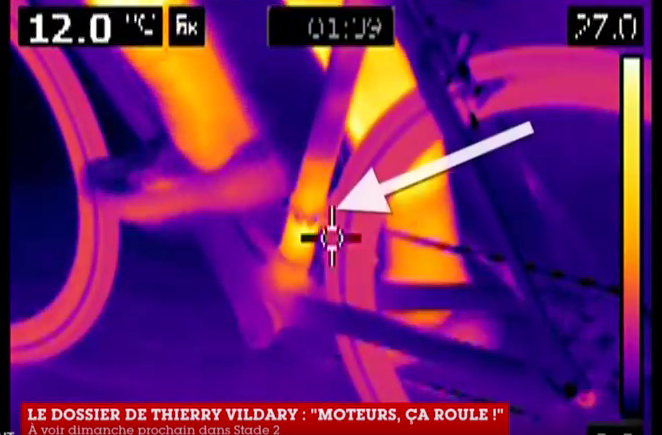 Two days after French and Italian journalists presented what they said was evidence of the use of motorised bikes in Strade Bianche and Coppi e Bartali, French rider Romain Feillu has said hat it would be "impossible" to use a bike equipped with a motor in the WorldTour.
Feillu, who rode for Vacansoleil in the WorldTour for three years but now rides for continental outfit HP BTP-Auber93, claimed in an interview with cyclingpro.net that the number of people involved with preparing a bike for a WorldTour rider means that a huge level of complicity would be required for a bike to be fitted with a motor.
>>> UCI: we still have the best method for detecting motors in bikes
"There are a minimum of three mechanics per team. All wheels are handled and picked up because the bikes are washed daily. I think that this [mechanical doping] is completely impossible. If there was the intention to cheat then everyone would be required to be in on it and inevitably someone would talk at one time or another."
Watch: industry reacts to motorised doping scandal
Of course, cover ups of this sort have occurred within cycling in the past, such as with the "professionalised" doping program that occurred with Lance Armstrong at US Postal, but Feillu believes that the changes that have occurred within cycling since then means that such corruption is no longer possible.
"There is such force in the media now. By a simple tweet you can start a debate. At that time, it did not exist. There was no such was to communicate and to question such things."
>>> We've had drugs and motors, what will the cycling cheats come up with next?
On the subject of the French television documentary that claimed to unearth evidence of motorised doping at Strade Bianche and Coppi e Bartali, Feillu says that he is far from convinced by the evidence of motors in the bottom bracket or in the wheels.
"The thermal cameras show a hot area at the bottom bracket, where there is friction. My opinion is that it is not well lubricated and the bearings are worn, so the heat is just from the friction. It is also perfectly natural that there should be heat coming off the hubs as this is another area of friction. In the same way, if the thermal camera was used on a descent, it is perfectly normal that the rims should be hotter than the frame because of the braking surface."
There has only been one confirmed case of mechanical doping in a UCI race, with a motor being found in Femke Van den Driessche's bike at the cyclocross world championships in January. The young Belgian rider chose not to defend herself in the case, retiring from the sport.