John Degenkolb criticises Dubai Tour organisers for lack of action during sandstorm
Marcel Kittel joins his fellow German in calling for clearer extreme weather protocols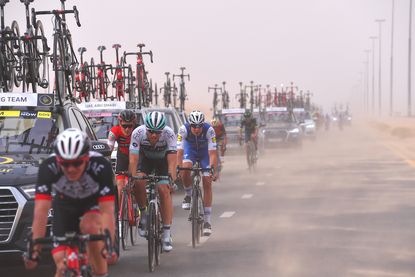 (Image credit: Tim de Waele/Corbis via Getty Images)
John Degenkolb said securing his maiden victory for Trek-Segafredo at his first race of the 2017 season "releases the pressure" going forward.
However, after winning the bunch sprint at the end of stage three of the Dubai Tour, both Degenkolb and race leader Marcel Kittel called for improved protocols to deal with extreme weather after the peloton was engulfed in a sandstorm during the day.
The 28-year-old German opened his account for the American squad, which he joined from Giant-Alpecin at the start of the year, in Dubai. The last time he won here at the start of 2015, Degenkolb went on to enjoy his most successful season to date, winning both Milan-San Remo and Paris-Roubaix.
Degenkolb was forced to miss last year's Spring Classics campaign with injury, after he and his team-mates were hit by a car while on a training camp in Calpe, Spain last January.
"The goal was to find the rhythm here and to have a good start into the season and that's definitely what we've got already. Everything that comes now is a bonus," Degenkolb said at the stage finish in Al Aqah.
"I'm really happy, the whole team is really happy I think that also releases the pressure - which was actually not there - but it's always a nice feeling to start your first race with a victory, and going into a great Classics campaign."
>>> Marcel Kittel 'won't accept and apology' for punch; calls for six-month ban for Astana rider
Much of Degenkolb's lead-out in Dubai are riders likely to support him in the upcoming Classics, and despite being new to the squad he praised how well the riders were already working together.
"Races like this are mental games. I want to be successful but it's just great to get support like this from the team," he said. "For me that's crucial because in the end you are winning these races also in your head and of course you can also lose it.
"It was great that the team just kept believing in me, even after I didn't feel super great after that sandstorm. It was amazing."
Around halfway into the 200-kilometre flat stage through the desert plains of the Emirates state, the riders were caught in crosswinds and a sandstorm – something Degenkolb described as "super dangerous". Such were the conditions the peloton decided to stop racing.
Watch: complete guide to the Dubai Tour, Tour of Oman, and the Abu Dhabi Tour
"I think the conditions were on the limit or over the limit," Degenkolb continued. "I wish we could have avoided a situation like this. I understand the organisers and the jury - that in a moment like this when you have the sandstorm there is not so much you can do - but you have to think about these kind of things before.
"We agreed together that we'd just ride easy because it was super dangerous. There were sand dunes on the road, and if you are a little bit more in the back then you had no possibility to avoid a crash."
Although Degenkolb explained the riders asked the commissaires to neutralize the stage, by the time they did so they were refused and told the weather was due to improve in the next few kilometres – which it did.
"It was already too late because then basically it was over, so then the conditions were getting better and better again," he said.
>>> UCI's extreme weather protocols still unclear, says Giro d'Italia boss
Race leader Marcel Kittel reiterated that better protocols are needed to ensure riders are safe during what he called "really extreme" weather conditions.
"That's our problem in cycling, there is nobody, there's not even like rules for it," Kittel said. "What's the rules for such a stage; it's very difficult so the CPA, UCI, they have to keep on working to put that in the [rules]."
Kittel, who finished the stage with a cut above his left eye after being punched by Astana's Andriy Grivko, continued: "I think it was a good choice what we did as a group also trying to talk to the race directors.
"It's always a difficult decision, you don't want to cancel a stage like this but we waited for better weather so that gave us the chance to take no risk and it also gives the race the chance to go for the final to satisfy the sponsors I think that's also important."
Thank you for reading 10 articles this month* Join now for unlimited access
Enjoy your first month for just £1 / $1 / €1
*Read 5 free articles per month without a subscription
Join now for unlimited access
Try first month for just £1 / $1 / €1