Cattle grid causes Katusha rider to crash out of Tour de Yorkshire after just 500m
Sven Erik Bystrøm comes a cropper on a cattle grid just 500m into stage one of the Tour de Yorkshire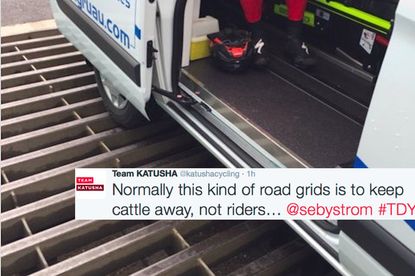 Sven Erik Bystrøm (Katusha) didn't have long to enjoy his Tour de Yorkshire experience; crashing out of the race after just 500m in a nasty-looking fall involving a cattle grid.
The metal grids are tricky enough to get over safely in good weather, let alone when the rain is lashing down like it was on the start line in Berverley.
Bystrøm required the attention of an ambulance that was following the peloton after hitting his face quite hard, although it's not clear if he slipped on the grid or got his wheel caught in it.
Your guide to the Tour de Yorkshire
Riders have been battered by wind and heavy rain most of the way through the 184km route from Beverley to Settle, with more bad weather forecast for the rest of the weekend.
Katusha are led in Yorkshire by new signing Jurgen Van den Broeck - a podium finisher at the Tour de France in 2010 - who joined from Lotto-Soudal in the off-season.
Thank you for reading 20 articles this month* Join now for unlimited access
Enjoy your first month for just £1 / $1 / €1
*Read 5 free articles per month without a subscription
Join now for unlimited access
Try first month for just £1 / $1 / €1