London Six Day: Wiggins and Cavendish take the lead ahead of final day
The Madison world champions took the lead after winning the chase on day four of the Six Day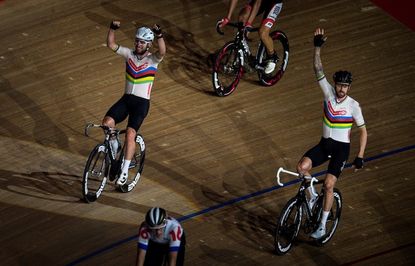 (Image credit: Justin Setterfield)
Sir Bradley Wiggins and Mark Cavendish are perfectly placed to give the Knight Rider's British racing career a fairytale ending after taking the lead at Six Day London.
The duo took an all-important Madison chase victory by taking a solo lap on the field, on a night where Katie Archibald continued to dominate the women's omnium.
>>> British Cycling investigation: 'Shane Sutton did use inappropriate and discriminatory language'
With just a day's racing to go Wiggins and Cavendish lead defending champions Moreno de Pauw and Kenny de Ketele by a lap, with the Australian pairing of Cameron Meyer and Callum Scotson, as well as Dutch duo Yoeri Havik and Wim Stroetinga, a further lap behind.
The Belgians have ten more points than the Brits but that is unlikely to be an issue as de Pauw and de Ketele sit 73 points from gaining the required points to take a lap.
And Cavendish is excited by the thought of maintaining their lead to end up Six Day champions on Sunday.
"It would be amazing," said the 2011 Tour de France green jersey winner. "To ride here in front of this crowd in World Championship jerseys is something special anyway.
"I had to miss it last year, but to win it with Brad would be something special.
"We've played the long game here. It's a hard Six Day here in London and we knew we were going to be tired. We've tried to look after ourselves to come through.
"It's not been great because we haven't won so much this week and it's a big gamble, but thankfully it's paid off.
"I don't think things are going to be easy on Sunday. There's not just one team on our heels, there's three or four teams, and that's going to make it a really hard fight."
The British duo missed out on a chance to gain points on the Belgians early on Day Five as all three leading pairs went out of the elimination race in the opening laps, with Brit Jon Dibben taking win ahead of France's Morgan Kneisky.
But the opportunity was not to be missed a second time, as Cavendish and Wiggins ripped the Madison field to shreds, twice taking solo laps to win the race at a canter - to the obvious delight of the capacity Lee Valley VeloPark velodrome crowd - as Havik and Stroetinga took second, a lap down.
And there was more British success in the Longest Lap, as Chris Latham took his second win of the week.
"It's not the best race, but it is the best race," said the 22-year-old. "It's a crowd pleaser. They get to see you doing a bit of track standing, then at the end you just smash it."
The remaining Six Day race saw Germany's Marcel Kalz and Leif Lampater take the 60-lap Derny B final, but not before Archibald had further stamped her authority on the women's competition.
The overnight leader extended her advantage with wins in the flying lap, elimination race, and 10km scratch race.
Archibald's trade teammate Neah Evans kept up her string of second places, pushing the Olympic champion to the line in each of her wins, and currently sits second in the standings, five points behind her fellow Scot's total of ten.
The Olympic team pursuit champion did miss out on one victory, though, with Jarmila Machacova taking the honours in the 10km points race, taking a lap on the field as Archibald and Evans finished fourth and third, respectively.
With the elimination race, also known as the Devil Takes the Hindmost, not featuring in Sunday's schedule, Archibald knows she does not have the title locked up just yet.
"I'm feeling nailed, but happy, really pleased," said the European omnium champion.
"We've had some pretty exciting sprints. I think that devil that we rode this evening,iIt's got to be one of my favourite ever Devil finals I've think ever ridden.
"When you've got a tactic in your head and you follow it through, which rarely ever happens, I found that dead exciting.
"There's no Devil on Sunday. That's been my favourite event. I've never done a 'Win & Out' which is, I guess, the opposite of a devil. I'm pretty scared, I'm trying not to be scared."
The sprinters event continued to see Germany's Joachim Eilers dominate, and he now leads countryman Max Levy, sitting on 37 points, by ten with just one day to go.
Eilers won the 200m TT, but could not take the sprint final as Levy got the better of him, and it was Britain's Matthew Rotherham, third in the standings with 45 points, who took the Keirin victory.

Six Day London takes place between 25-30 October 2016 at Lee Valley VeloPark on Queen Elizabeth Olympic Park. Half term fun, with or without the kids.
Thank you for reading 20 articles this month* Join now for unlimited access
Enjoy your first month for just £1 / $1 / €1
*Read 5 free articles per month without a subscription
Join now for unlimited access
Try first month for just £1 / $1 / €1