Lotto-Soudal rider escapes disqualification after pushing rival out of peloton (video)
Kris Boeckmans had a disagreement with Justin Jules in the final kilometres of Nokere Koerse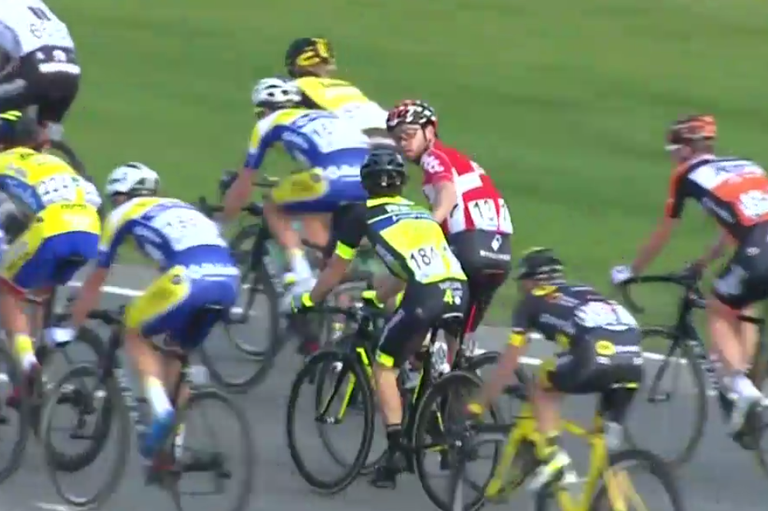 (Image credit: Eurosport)
While Nacer Bouhanni (Cofidis) won Nokere Koerse ahead of Adam Blythe (Aqua Blue Sport), the finale of the race was overshadowed by a bizarre altercation involving Lotto-Soudal's Kris Boeckmans and Justin Jules (WB Veranclassic Aqua Protect).
The incident took place with 8.7km to go in the Belgian semi-Classic, and began with Boeckmans riding up alongside and gesticulating at the WB Veranclassic riders.
>>> Watch: Peter Sagan nearly taken out by dog walker strolling across Tirreno time trial course
The Belgian rider then seemed to take particular issue with French sprinter Justin Jules, putting a hand on Jules' shoulder and freewheeling, pushing them both back through the peloton, with riders managing to come around them.
Discussion apparently over, Boeckmans next appeared on camera in discussion with the commissaires, initially prompting speculation that he may have been disqualified. However this doesn't seem to have been the case, with Boeckmans appearing in 149th place in the results.
As for Jules, he didn't let the incident faze him, finishing as his team's best rider in 16th place.