Luke Rowe: 'I've not ruled out riding the Tour de France'
Welshman is ahead of schedule as he recovers from serious leg injury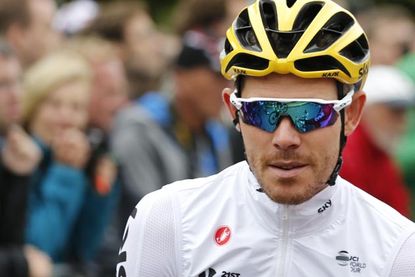 (Image credit: Yuzuru Sunada)
Luke Rowe has said riding the Tour de France this year will be one of his goals as he continues his journey back from a serious injury sustained last summer. Rowe broke both his tibia and fibia jumping into shallow water on his brother's stag do last August.
Speaking to Cycling Weekly ahead of the team's December training camp in Mallorca, he said: "I'm not ruling out riding the Tour de France in 2018 for a fourth time."
>>> 'One big crash and it would shatter': Luke Rowe says he'll have 'no regrets' approach when he returns from broken leg
Rowe was keen to emphasise that he is entering a tricky stage in his return to full fitness. "I'm way ahead of the schedule the doctors gave me. I didn't cut any corners, I just managed to do things sooner than expected."
The Welshman added: "It's hard to put a timescale on it because you don't know how your body is going to react, but it's nice to think that come February I could be training full gas. I hope to be racing again by April or May. My surgeons have told me to expect plenty of stepping stones in order to recover from this injury. It's just up to me to complete them."
Rowe would usually be training for around four to five hours a day on the bike in winter, but was doing only 10-12 hours in his first week ahead of flying to Mallorca.
http://www.youtube.com/watch?v=2csqgpsRhWU
He said the last few months had "undoubtedly" been the lowest of his career.
"If anything, it's made me realise how much I love it [racing] and I want it now more than ever… I've missed being with the lads, at the races and on the bus. Being away from them and the whole pro cycling team set-up has made me appreciate it more," he said.
He said the team's support had been crucial.
"What they've done for me has been incredible. I wouldn't be where I am now without their support.
"People seem to think it's because they have the budget, but that's not true. It's the passion and the time they put in. I owe them a massive thank you."
However, his contract is up for renewal this year and he is keen to consider every option for the next stage of his career.
Thank you for reading 20 articles this month* Join now for unlimited access
Enjoy your first month for just £1 / $1 / €1
*Read 5 free articles per month without a subscription
Join now for unlimited access
Try first month for just £1 / $1 / €1