'One big crash and it would shatter': Luke Rowe says he'll have 'no regrets' approach when he returns from broken leg
Team Sky rider reveals how surgeon told him he might never ride again after breaking leg in August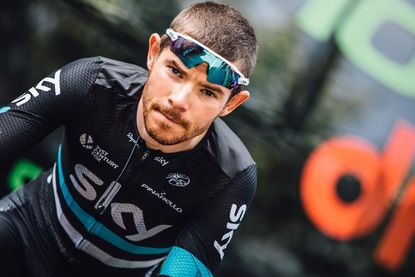 (Image credit: Daniel Gould)
Now back on a track bike as he recovers from a badly broken leg, Luke Rowe has revealed that one bad crash could see him sustain longer lasting injuries that could mean he never rides a bike - or even walks - again.
The Team Sky rider shattered the tibia and fibula in his right leg into more than 20 pieces when he jumped into a whitewater rafting course on his brother's stag party in Prague in August.
Rowe recently returned to two wheels as he took in a few laps of the Newport velodrome, but says that the decision to leave a metal rod in place to heal his fractures could have consequences if he were to suffer another bad fall.
"I have a metal rod in there," Rowe said in an interview with The Telegraph. "We've had a few discussions about whether to leave it in or take it out. And we've decided that we're going to leave it in to strengthen the tibia.
"But if I was to crash and if it was a big one, well, you can imagine… the rod bends, the bone doesn't. So it would shatter and I would never ride a bike again. Potentially never walk again. I would never have full use of my leg."
>>> What is the best route to recovery from injury?
Despite the threat of a bad crash having potentially career-threatening and life-changing consequences, Rowe says that he has no plans to do anything differently when he returns to racing.
"I've just got to crack on and if I crash, you know, it would be a horror story and I'd go and stack some shelves. No regrets," he continued. "You can't wrap yourself up in cotton wool. It was just super unlucky."
Watch: Pro Bike - Luke Rowe's Pinarello K8
Although Rowe is now back riding on the track and hoping for a return at the Commonwealth Games in Australia in April, he says that at the time of the accident there was concern that the injury may put an end to his career as a professional cyclist.
"The surgeon said 'There's a good chance you will never ride a bike again'. That was probably the worst moment of my life," the 27-year-old said. "I just sat on my bed and broke down and cried. It was stand out the worst moment of my life."
Working with doctors and Team Sky physiotherapist Nathan Thomas, Rowe is now gong through a rigorous regime of strengthening work in the gym, a routine he describes as "doing what you have to do", receiving praise for his attitude towards recovery from members of the team's support staff.
>>> How do professional riders spend the off-season?
Seeing the injury as a chance to come back even stronger, the Welshman hopes that he will at least get to ride one Grand Tour in 2018, setting his sights on the Vuelta a España at the end of August.
"Especially with all this gym and rehab, the opportunity is there to work on your weaknesses. I'm fully optimistic I'll be back stronger than before.
"I will definitely ride the Vuelta next year I think. The Tour could be a bit ambitious but I'm not ruling myself out of that."
Thank you for reading 20 articles this month* Join now for unlimited access
Enjoy your first month for just £1 / $1 / €1
*Read 5 free articles per month without a subscription
Join now for unlimited access
Try first month for just £1 / $1 / €1