Marcel Kittel: 'I'm not using disc brakes out of respect for my colleagues'
German sprinter calls on riders to "speak with one voice" over disc brake decision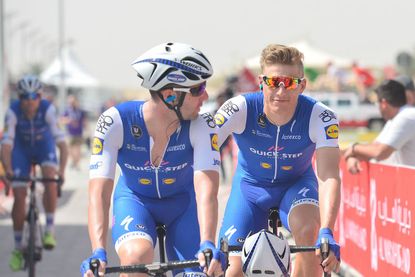 (Image credit: Yuzuru Sunada)
Marcel Kittel has said that riders need to stick together to have their voice heard on whether to ride disc brakes as he decided not to use them at the Abu Dhabi Tour after Owain Doull claimed he cut his foot on Kittel's bike's disc brake rotor in a crash.
Doull and Kittel collided at the one kilometre to go marker in yesterday's Abu Dhabi Tour causing a pile-up. Doull then claimed it was the Quick-Step Floors rider's disc brake rotor that caused a sharp cut in his shoe and cuts to his foot.
Many riders subsequently took to social media to speak out on the technology's use in the pro peloton.
Kittel, who was the only rider in the race using disc brakes, arrived at the start of the race's second stage with a caliper brake bike.
>>> If what happened to Marcel Kittel had happened to me, then I wouldn't be riding discs today'
He said: "I will not use the disc brake bike today out of respect for my colleagues. In the vote that we had within the CPA I voted that I would like to have disc brakes but only if the problems that are still there are solved.
"I want to see only a complete bunch racing on it in the future. I'm in favour of a caging -there are good prototypes already. It's good to solve the psychological problem that might be there [right now].
He added: "The most important thing here is that we as riders stick together and have one voice. We should have discussions about it, opinions will be different, but I can understand if there might be a mental problem at the moment and I don't want to pour oil on that fire."
The German said that pro riders should have a "leading role" in the decision to move to disc brakes. "We ride the bikes we suffer from the injuries, like you saw yesterday, when we crash. We should be part of the process," he said.
Watch: What do the pros really think about disc brakes?
He said he had spoken to Doull after the crash and heard his side of the story. "I just wanted to hear first of all how he is and what he thinks about what happened yesterday. We also spoke about his opinion about his sliced shoe and how that happened.
"I think in the end nobody can really tell. I can understand out of emotion after a race where you crashed perhaps the easiest thing was to blame disc brakes but afterwards when you follow the discussion on social media there is strong evidence that it is maybe not the case, it's not up to me to decide.
He said riders should not get distracted by discussions over what happened without proof.
>>> Alex Dowsett: Crashing twice in one day, that's a record
Kittel added that it was his decision not to ride discs following the crash on Thursday and said he was under no pressure from his team's bike sponsor Specialized to ride a disc brake bike.
"I don't get paid to ride disc brakes, like some of my colleagues have said as a joke," he said. "I'm also not here to drive a marketing campaign for disc brakes. I still think they can be the next step for technology in our sport, I still have that opinion, but I think it's also a smart move to see how it develop and keep working on it.
"Our sponsor comes up to us and says if you want to ride it we support you but they don't push us, nothing at all. They are happy to get feed back from us but there is no pressure."
Thank you for reading 20 articles this month* Join now for unlimited access
Enjoy your first month for just £1 / $1 / €1
*Read 5 free articles per month without a subscription
Join now for unlimited access
Try first month for just £1 / $1 / €1