Owain Doull's foot and shoes 'cut by disc brakes' in Abu Dhabi Tour crash
"It's gone straight through my shoe into my foot. That's lucky it is not my leg."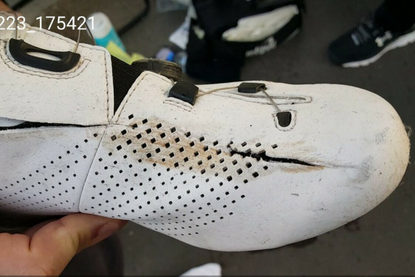 (Image credit: Gregor Brown)
A crash at the end of stage one of the Abu Dhabi Tour left Owain Doull (Team Sky) with a cut to his foot and his shoes cleanly sliced through, with Doull saying that these were caused by the disc brakes of Marcel Kittel (Quick-Step Floors) who was involved in the same incident.
Speaking after the stage, Doull said that he was sure that it was Kittel's disc brake rotors that had sliced through his shoe and cut his foot.
"My shoes cut the pieces, that's definitely brakes that did that," Doull said while he had other wounds attended to on his back and backside.
"It's gone straight through my shoe into my foot. That's lucky it is not my leg.
"If that had been my leg it would have cut straight to it."
The riders' union, the Association of Professional Cyclists (CPA), has pushed for covers on the rotors and, in recent weeks, a complete ban.
"Unless there are covers on then you should not use them," Doull added.
Another crash also involved Alberto Contador and Bauke Mollema (both Trek-Segafredo) with around five kilometres out in the 189-kilometre stage. However both were able to make it back into the peloton and finish safely.
Watch: What do the pros really think about disc brakes?
Doull, who is riding his first race back after having his appendix removed, collided with German sprinter Kittel right just before the final kilometre arch.
"My shoe took the brunt of it. My foot is fine," Doull added.
"That is definitely it because nothing else could cut quite like that. It is like a knife."
The CPA wants that the UCI suspend the disc brake trial that re-started this 2017 season until more improvements are made. It said that if the trial restarts, then everyone should be on them, not just a select few, something with which Doull agrees.
"Covers needed? Yes for sure. It wasn't until I got back here [the team car] and it looked at it and we said, it has to be that [a disc].
"I don't think I can make that call [to end the trial] but in my opinion, unless there are covers on them then they are pretty lethal to be honest."
>>> Disc brakes now safe? Pro posts video to try and make you think again
The sport's governing body first started to trial disc brakes at the start of the 2016 season, but this was suspended after Fran Ventoso alleged that an injury that he suffered at Paris-Roubaix was caused by a disc brake rotor.
The incident comes only a few races into the season, with the UCI restarting its trial of disc brakes at the start of the year.
"I'm not too sure how the crash happened, it's always going to be sketchy in a sprint," said Doull.
"I was on Cav's wheel and I think it was a tight squeeze in that roundabout. Space for two or three, and we all ended up on the floor.
"I'm a bit sore, but apart from that, I'll be fine."
Thank you for reading 20 articles this month* Join now for unlimited access
Enjoy your first month for just £1 / $1 / €1
*Read 5 free articles per month without a subscription
Join now for unlimited access
Try first month for just £1 / $1 / €1