Molly Weaver: Almost paralysed to Giro Rosa start line in less than six months
In February Molly Weaver was recovering from a horrific crash, and now she lines up for the Giro Rosa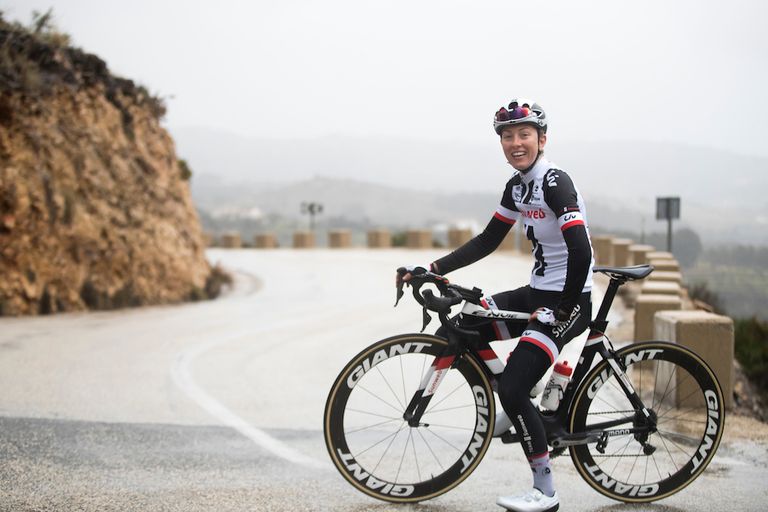 By Michelle Arthurs-Brennan published
British rider Molly Weaver has embarked upon the Giro Rosa less than six months after a collision with a car that doctors said would have killed most people. Asked to describe herself in just one word, she said she was 'motivated' and it's easy to understand why.
The Team Sunweb rider broke five vertebrae, crushed her chest, back, shoulder and four ribs when she collided with a car on a training ride near her home in Girona in February.
"I was at my peak. From what the doctor said, I'd have died if I hadn't been as fit – if I'd not had as much muscle mass, and I'd not been as healthy. The impact would normally kill you or leave you paralysed," she said.
The extensive injuries mean she wasn't expected to ride a bike all year, but the 23-year-old isn't easily deterred from riding her bike.
Indeed she was on the rollers wearing a back brace within two months (against traditional doctors orders, but in line with recommendations from team doctors).
"When it first happened they said I wouldn't cycle all year, even the team thought that was it. But I knew that wouldn't be the scenario, it was just a case of when [I'd be back on the bike]."
She said it was all about taking it "day by day", adding: "going from being an elite cyclist to trying to do an hour easy – it's a long way to fall.
"You have to draw a line under the rider you were before and ask 'what can I do today?' I'd lost all my core strength too, after two months in a brace, I couldn't even hold myself to sit up at first.""
Weaver only got into the swing of four hour endurance rides a month ago: "three weeks ago, I celebrated being able to do hard sessions back to back – before that I would do one day, and I couldn't do the next day."
"The team doctors have been invaluable. Having this massive team, with the men's and women's staff team combined has made an immense difference. It meant I could be completely confident [I was making the right choices in recovery]."
The accident itself sounds far too similar to other recent collisions. Despite having no memory of the incident, she now knows what happened.
"I was descending a very gradual descent," Weaver said. "I was going towards a bend – and he [the driver] was coming out of the bend.
"He was going just a bit too fast and overshot onto my side of the road and then we hit head on. I hit his windscreen on the left side, so it was just a case of he was going too fast, it was a tight bend on a mountainous descent, he goes over the white line, and I hit him.
"It does seem like increasingly now, every day, or every week, there's some one who has been involved in an accident with a car or had an altercation. It is something that needs to be addressed."
At least now, the incident is behind her – and it's time to look ahead to the next challenge: the Giro Rosa.
Team Sunweb will be aiming for stage wins with sprinter Coryn Rivera, as well as supporting GC hopeful Sabrina Stultians.
Weaver will be acting as a domestique during the 10-stage race.
"I'll be playing a role for the team, hopefully I can be part of some wins," Weaver said. "I hope to build through it. I think now what I'm lacking is racing and that real top-end. I can now train to the level I could before, but I've only raced three times since the accident."
"I'm lucky, because I have no memory of the crash, I've got back into the peloton relatively easily – I'm not too nervous," she added.
The Giro Rosa is the longest and oldest race in women's cycling. But it's got a reputation for being somewhat lax in organisation.
>>> UCI adds three new races to Women's WorldTour for 2018 season
"I think… it's a different style of organisation, compared to something like the Women's Tour... which is the pinnacle everyone uses now.
"When you come here you have to go with the flow a little bit more. It would be easier if it was the level of the Women's Tour, but it is improving every year.
"Also, as the team's infrastructure grows, as women's cycling grows, you notice less the organisation.. as you have your own organisation. You drive in your bus, you have your swannys [soigneurs].. you're not so reliant on the race organisation."
The race does, however, still clash with the biggest bike race in the world – the Tour de France.
"We have to be honest with ourselves in women's cycling," Weaver said. "It's really hard to come up against the Tour de France. The Giro does get lost in that."
The Tour de France is due to move by a week to remedy its own clash with the FIFA World Cup next year. It's likely the Giro Rosa will move with it - to help the Italian TV company RAI maximise on their Tour de France coverage by showing the two races together.
However, there's the slightest glimpse of hope this might change. Asked about the difference this could make, Weaver said: "I think it would be good if the Giro was at a different time. It's frustrating – it's an unnecessary clash. If it moved, then hopefully we'd see more coverage."
Cycling Weekly's Tech Editor Michelle Arthurs-Brennan is a traditional journalist by trade, having begun her career working for a local newspaper before spending a few years at Evans Cycles, then combining the two with a career in cycling journalism.
When not typing or testing, Michelle is a road racer who also enjoys track riding and the occasional time trial, though dabbles in off-road riding too (either on a mountain bike, or a 'gravel bike'). She is passionate about supporting grassroots women's racing and founded the women's road race team 1904rt.
Favourite bikes include a custom carbon Werking road bike as well as the Specialized Tarmac SL6.
Height: 166cm
Weight: 56kg