Bahrain Merida pursues case against Tour de France organisers after Vincenzo Nibali crash
Bahrain Merida manager says situations like this are unimaginable in any other sport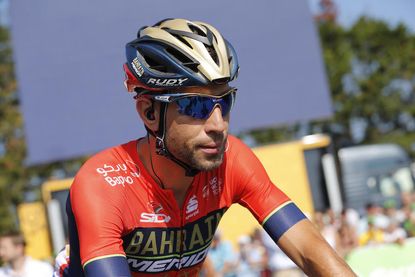 (Image credit: Yuzuru SUNADA)
Key players have said that cycling needs to do more to protect riders after incidents in the Tour de France.
This year, Vincenzo Nibali crashed and fractured a vertebra on a section of Alpe d'Huez that was lined by fans waving flags and dangling cameras in the direction of riders.
General manager of Nibali's team Bahrain Merida, Brent Copeland, says that these situations are unimaginable in other sports.
The team is in the process of making a case for compensation against the organiser, ASO.
"We are still going ahead with the lawyers, it takes time. You have to get pictures of the events, we have them with the policemen standing quite close to the accident and they weren't stopping the fans," Copeland told Cycling Weekly.
"We have to put a case together and send it forward. But neither ASO nor the UCI has contacted us. It's either the insurance money or we will make a case about what happened."
"If you think about it, Vincenzo Nibali was lying there with a broken vertebra and a fan came there and pulled him up," Copeland said. "Could you imagine that in football or the NFL?"
The Sicilian cyclist commented this week to La Gazzetta dello Sport, "It's craziness. I was immobile on the ground with such pain. It'd take nothing and maybe I'd have been paralysed."
After almost a year of planning, Nibali was forced to abandon on stage 12 that finished on Alpe d'Huez.
It has been suggested that a fan's camera strap, or something similar, had wrapped around his handlebars and caused him to crash with four kilometres remaining.
Smoke from flares, billowing flags and running fans made the situation chaotic on the famous climb. Four-time race winner Chris Froome (Sky) was hit twice by fans, and police arrested at least one individual.
"The alcohol consumption is too high, and people will do anything just to be on TV," Nibali said.
"And Froome never complains, but is it right that he is hit while he's working? He took one right before I fell. Too often we are racing in insane situations."
Copeland explained, "[Alcohol] has a certain affect but it's been like that for years. I don't think the alcohol consumption has gotten worse.
"There has to be more protection from the organisation to prevent this in case there are drunk fans running around going crazy. The message Vincenzo is trying to get across is that it sometimes becomes crucial because so many people are running around dressed differently trying to get themselves on TV. If they are drunk, it makes it that much worse.
"I think on Alpe d'Huez this year they stopped selling alcohol. You now have to bring it from home, so that doesn't prevent people from drinking. It's just the number of people on the road. We have to have more protection.
"They have to do something for the last four to five kilometres - put up a barrier or put police along the road completely. The UCI should make it compulsory to the organiser."
In his first year with the new team he helped begin, Nibali and Bahrain-Merida focused on the 2017 Giro d'Italia. He placed third overall behind Tom Dumoulin (Sunweb). In 2018, Nibali wanted to return to win the Tour.
The team invested money and time on the goal. Nibali trained towards that goal, his pre-season build included winning the 2018 Milan-San Remo.
The famous climb saw Great Britain's first winner with Geraint Thomas winning in the yellow jersey. Thomas used the gains in the Alps to go on and win the Tour overall.
Nibali has yet to race following the crash, but is planning on returning in the Vuelta a España starting August 25 to be ready for the world championships.
"I don't even know what condition I'll be in when the Vuelta starts," said Nibali.
"The most logical thing, given my condition and thinking of the worlds, is to read the race without thinking about the classification."
Thank you for reading 20 articles this month* Join now for unlimited access
Enjoy your first month for just £1 / $1 / €1
*Read 5 free articles per month without a subscription
Join now for unlimited access
Try first month for just £1 / $1 / €1