Confusion surrounds Box Hill ticket sales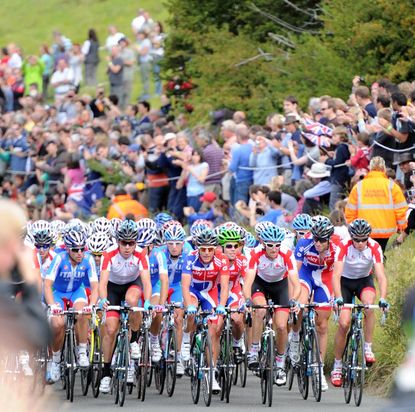 Cycling fans were left frustrated today after a series of problems left them without tickets for the Olympic road races and time trials.
London 2012 organiser LOCOG put tickets for Box Hill (road race) and Hampton Court (time trial) on sale at 11am this morning (Tuesday), but many fans were shut out.
LOCOG have previously claimed their ticketing website can cope with 250,000 transactions per hour.
CW tried to get tickets for all the events, but like our many of our readers, we suffered problems and were initially unable to purchase any.
Applicants found themselves in a 15-minute queue immediately after the tickets went on sale. Furthemore, those lucky enough to get through to the payment screen were then told they had been unsuccessful, even after entering their card details (see picture below).
>>> Top five road race alternative viewing spots
LOCOG's ticketing phone line was also a source of frustation. CW admittedly got through to an agent, but this was after 14 aborted calls.
A few lucky enthusiasts who got in touch via CW's Twitter feed reported success around 11.30, some 30 minutes after the tickets went on sale.
Here is a selection of comments we have received this morning:
Ivor H "nope, got five crashes since 11am then said no tickets."
Craig Bowdery "on 3rd attempt,got 3 tickets for the Mens RR.now trying my luck for some TT tickets - keep trying(but only once i'v got mine)"
Sarah Connolly "It's the fact you can get so far on the phoneline, & then it just disconnects!"
Robbie Toothill "attempt 6, got to the payment stage twice.Still no joy.Good job the Grand Tours aren't run like this"
Herbie Green "I've tried so many times now - at first it failed each time at payment after 'reserving', now it say 'tickets not available'!"
Ryan Murray "Got on after 20 mins, tickets in basket, ordered the wrong amount, went to change it and it threw me back to start!"
Ed Staite "now on 6th attempt. Twice been bounced out of payment page. Phoneline also bouncing" out.
Newlife Paint "Got two for Box Hill - Yay! Am now pushing my luck for the TT - fingers crossed!!"
Related links


Top five alternative road race viewing spots
LOCOG decided over Box Hill charges?
Thank you for reading 20 articles this month* Join now for unlimited access
Enjoy your first month for just £1 / $1 / €1
*Read 5 free articles per month without a subscription
Join now for unlimited access
Try first month for just £1 / $1 / €1