German and French Olympic teams sneak in fourth sprinter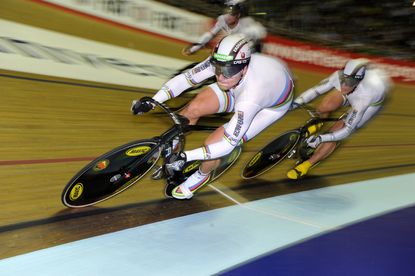 Sir Chris Hoy has been among the critics of the new Olympic regulations restricting the number of riders who can be selected for the track events.
The one-rider-per-nation rule for the individual events means that a maximum of three sprinters can be selected to contest all three sprint events -- team sprint, keirin and individual sprint -- with the result that some of the best riders in the world will miss out.
But it seems that the Germans and French are preparing to exploit a loophole in the rules that could permit them to have four track sprinters and, potentially, to field an extra rider in the team sprint.
With the competition set to be run over three rounds in 90 minutes, the advantage of having a pool of four riders could be critical.
It has emerged that, as well as naming their three track sprinters, the Germans will have a fourth sprinter, Robert Förstemann, in London, after naming him as a mountain biker. Förstemann, blessed with the biggest thighs in world cycling, has never, to the best of CW's knowledge, ridden a mountain bike race, certainly at international level.
There is nothing in the rules, however, to prevent a mountain biker riding on the track -- as long as he has competed in a recent round of the UCI track World Cup series, as Förstemann has. Thus, it is feasible that Förstemann could come in for the team sprint, riding one or more rounds to give one of their riders a rest and fresher legs for the final.
Similarly, the French team are understood to have entered their 'fourth' sprinter, Mickaël Bourgain, in the road race, seemingly sacrificing a place in their five-man team.
Thank you for reading 20 articles this month* Join now for unlimited access
Enjoy your first month for just £1 / $1 / €1
*Read 5 free articles per month without a subscription
Join now for unlimited access
Try first month for just £1 / $1 / €1