Matt Goss fresh for Olympic Games assault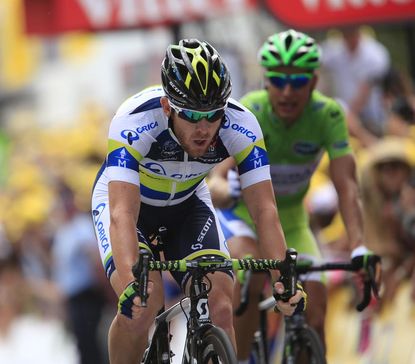 Redemption has been at the forefront of Australian Matthew Goss's mind since finishing second to Mark Cavendish at the road World Championships last year.
The 25-year-old hopes to go one better at Saturday's Olympic Games road race - the course for which he says suits his strengths more so than his British rival.
Goss will enter the 250km race on the back of the Tour de France where he finished in the top three of five stages with a "ridiculous" penalty ending his green jersey chances.
"I'm feeling better and better each day and I've been fairly strong," Goss told Cycling Weekly.
"I feel like everything is moving in the right direction. I'm not trying to drag myself out of bed at 10.30 in the morning or anything like that. I still feel fresh."
The London 2012 course is relatively flat up until the Box Hill climb that the peloton will tackle nine times - a total elevation of roughly 1539m. The circuit is set to define the race but a relatively flat 49km back to the finish on The Mall may be enough for the chasers to catch-up.
Cavendish will have the advantage - and simultaneous added pressure - of competing on home soil and has made significant changes to his training this year, paying more attention to scientific data, in preparation for Box Hill.
The world champion also had GB nutritionist Nigel Mitchell living with him for a stint.
However, Goss, who spearheads Australia's experienced five-man squad, has made minimal adjustments in the season lead-up.
"Everything has been training as usual, training the same as last year," Goss said. "I've maybe been a little bit more specific with some efforts but I haven't had a nutritionist living me that's for sure.
"For Cavendish it was probably in his mind that he wanted to lose more weight for the Olympic Games," he continued.
"The course is going to be a little bit harder than most races - or any flat race we do anyway. It's a course that already suits my style of racing and my abilities so by coming out of the Tour de France I think I'm going to be naturally at the race weight I need to be if not less."
The 2011 Milan-San Remo champion Goss walked away from the Tour without a victory but has not lost motivation ahead of the Olympics.
He was in the mix for the maillot vert trailing eventual champion Peter Sagan by 27 points at the end of stage 11. The duo sprinted for minor places the next day where Goss was relegated from sixth to seventh, but then harshly docked an additional 30 points. The fine effectively ended his campaign with the Orica-GreenEdge team deciding the next day to let a break - including Sagan - go.
"We would have made sure it wouldn't have went the next day, we would have brought it back for a sprint before for the intermediate," Goss said of stage 13.
"I would have definitely followed him (Sagan) a lot more closely. We've always been around the mark (in stages) and that's why we were aiming for the green jersey. As it was, we were taking back enough points everyday that by the time we got to Paris we'd either be in the jersey or close enough to it that it was still possible to take it on the last day. But with the 30 points it just became out of reach.
"I can't change it. They made a call that I think was ridiculous.
"Look at other guys in past races and in the same race. The next day Sebastien Hinault moved from the left side of the road to the right side of the road and blocked Daryl Impey and didn't even get disqualified. That was for fourth place, I was racing for seventh place. You look at Roberto Ferrari who crashed half the peloton in the Giro d'Italia, he got relegated but not given a 30 point penalty."
Goss is in the UK with the rest of the Australian men's road team that includes Cadel Evans, Michael Rogers, Stuart O'Grady and Simon Gerrans.
The visiting nation could very well work with Great Britain and Germany for a bunch sprint but has more than one option should it become a more aggressive race that other nations including Belgium are sure to want.
Gold medal hopefuls Cavendish and Andre Greipel (Germany) have shown red-hot form ahead of the Olympics having picked up three stage wins a piece at the Tour. The 22-year-old Sagan (Slovakia), who has competed in two post-Tour criteriums in the lead-up, is a one-man team but has been tipped to be in the mix.
How competitors that started the Tour compare to those who purposely skipped it, including Tom Boonen of Belgium, remains to be seen.
London 2012: Latest news
Trott on top: London 2012
Hoy to be GB flag bearer at London 2012 opening ceremony
Millar: I think about Olympics all the time
Cavendish recognises advantage in missed Tour chances ahead of Olympics
Kenny not Hoy selected for London 2012 sprint
German and French Olympic teams sneak in fourth sprinter
Cavendish: GB's best bet for Olympic gold
London 2012: Team info
Men's road race start list
Women's road race start list
Men's time trial start list
Team GB rider profiles
Great Britain track team confirmed
Bronzini leads Italian Olympic cycling team
British Olympic men's road race team announced
Armitstead and Cooke lead GB women's road cycling team
London 2012: Event guides
Download detailed Olympic road race route map
London 2012 cycling schedule
Thank you for reading 10 articles this month* Join now for unlimited access
Enjoy your first month for just £1 / $1 / €1
*Read 5 free articles per month without a subscription
Join now for unlimited access
Try first month for just £1 / $1 / €1
Sophie Smith is an Australian journalist, broadcaster and author of Pain & Privilege: Inside Le Tour. She follows the WorldTour circuit, working for British, Australian and US press, and has covered 10 Tours de France.