Pendleton warms up for London 2012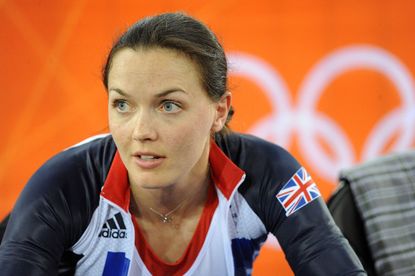 Defending Olympic track sprint champion Victoria Pendleton took to the boards of the London 2012 velodrome on Monday for a training session ahead of the opening track cycling events on Thursday.
No stranger to being photographed for fashion, there was much interest in one item of clothing being worn by Pendleton - her British Cycling 'hot pants'.
Rather than a skimpy pair of shorts, these are actually heated trousers that keep an athlete's legs warm between races or training efforts. It's just part of the arsenal of tricks and techniques that GB cyclists have adopted to keep them ahead of the opposition - hopefully.
The hot pants consist of heated elements placed into a pair of zip-sided, insulated trousers that warm-up the athlete's legs to around 38 degrees centigrade. Rather like a wrap-around electric blanket.
In theory, it should help riders get their legs up to racing temperature without spending exhaustive time on the rollers or fear of cooling down too quickly between heats - essential for sprint rounds.
Pendleton was present at the London velodrome on Monday with GB team supremo David Brailsford, coach Shane Sutton and pschologist Steve Peters.
Several other nations were also there training putting in hard efforts, including French sprinter Sandie Clair and the Danish team pursuiters.
The London 2012 Olympic Games track events kick off on Thursday, August 2. Pendleton will take part in the team sprint (with Jess Varnish), sprint and keirin disciplines in what will be her final Olympic Games.
Pendleton zips into the 'hot pants'
The trousers are powered by a battery pack and can be controlled via a hand unit
Pendleton shares a joke with GB coach Shane Sutton (second right) and performance director David Brailsford (right)
Victoria Pendleton gets ready
Onto the boards
Putting in an effort. Note the newly-designed UK Sports Institute helmet, the same people who design the GB track bikes
Pendleton's bike has an all carbon-fibre cockpit
French sprinter Sandie Clair
Denmark's team pursuiters
Related links
Bradley Wiggins' UKSI Olympic bike
Thank you for reading 20 articles this month* Join now for unlimited access
Enjoy your first month for just £1 / $1 / €1
*Read 5 free articles per month without a subscription
Join now for unlimited access
Try first month for just £1 / $1 / €1