Romero and Wiggins comment on Olympics pursuit cull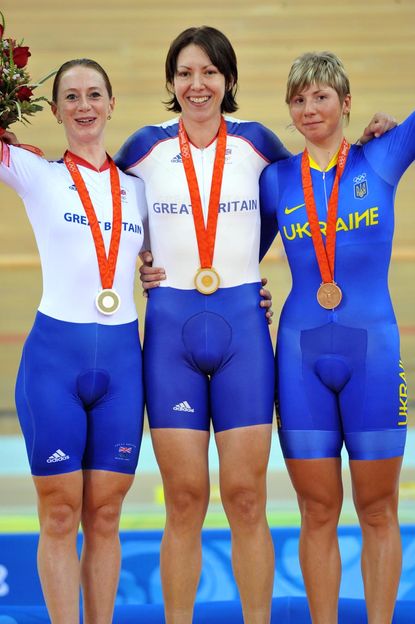 Reigning Olympic individual pursuit champions Rebecca Romero and Bradley Wiggins have given their reaction to the removal of the discipline from the 2012 Olympic Games in London.
The Union Cycliste Internationale put forward a proposal to the International Olympic Committee to reduce the number of cycling disciplines to five, and have the same events for men and women. The proposals were accepted by the IOC on Thursday.
Both riders agree that the track disciplines needed a shake up to present the same events for men and women, but neither can understand the rationale behind cutting the spectacle of the individual pursuit, a long-standing Olympic event.
Speaking to the BBC, Romero expressed her frustration at the removal of the event from the line-up of cycling events at the 2012 Games, branding the decision "ludicrous". The Briton had sensationally switched from rowing - where she won silver at the Athens Olympics in 2004 - to take up cycling to achieve a gold medal in Beijing last year.
"My initial reaction on a personal level is massive disappointment," said Romero. "I'd got back into training and up to fitness and I'd made the decision that I wanted to go to London and to defend my title and push the boundaries of women's individual pursuiting and see what I could do with it."
"And now, one instant it's there and then it's taken away, and effectively I don't have a job and that's my Olympic Games out of the window."
"Also I'm disappointed for track cycling as a whole, I think the changes are pretty much ludicrous."
"I'd like to have it explained, the exact thinking behind the decision making process," said Romero.
Romero is yet to make a decision to continue on the track, or make a swicth to riding the time trial on the road.
Wiggins found time to comment on the decision at Thursday's Team Sky press conference, where he was unveiled as its latest signing. The Brit was hoping to win a third gold medal in the individual pursuit after winning at Athens in 2004 and Beijing in 2008.
"It's disappointing, but I can understand where they're coming from with it," Wiggins told the BBC.
"It's out of my hands, I can't control it so I can't worry about it until the decision is final"
"I understand the reasons behind the decision, but perhaps it's a little bit drastic - the amount of events that are going to be scrapped."
Asked whether he would be at the 2012 Olympics, Wiggins said "The team pursuit is still there, which is high on the agenda, I'll certainly be at the Olympics going for gold in one event."
Related links
Individual pursuit removed from the Olympic Games
Rebecca Romero: Rider Profile
Bradley Wiggins: Rider Profile
Thank you for reading 20 articles this month* Join now for unlimited access
Enjoy your first month for just £1 / $1 / €1
*Read 5 free articles per month without a subscription
Join now for unlimited access
Try first month for just £1 / $1 / €1