Top five Olympic road race alternative viewing spots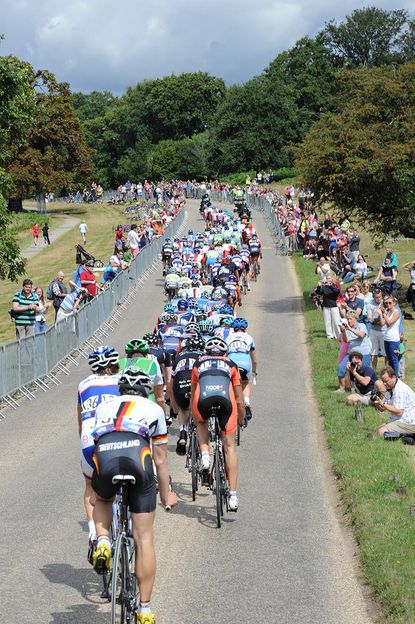 Tickets for the men's and women's Olympic road cycling events went on sale today, including 15,000 for the managed areas on Box Hill in Surrey.
Even if you weren't one of the lucky ones to get your hands on tickets though the notorious official processing system, you can still enjoy the race for free.
For starters there three free cycling festivals around Box Hill over the weekend of the road races (CW May 24): the Box Hill Cycling Expo, the Box Hill Festival of Cycling and the Surrey Hills Road Race Festival.
Surrey County Council also plan to host big screens in public spaces in Dorking, Leatherhead and West Byfleet.
There are plenty of additional places to watch the race come by too, and we've selected our five favourite alternatives to head to on July 28-29.
Richmond Park
London's cycling hotspot sees the race twice, and the slight slope makes a good natural grandstand. Watch the peloton roll out, enjoy a picnic in the park and then catch the sharp end of the race when it comes back through just a few miles from the finish.
Hampton Court
Pop up out of Hampton Court railway station and you'll find yourself practically on top of the course. Both races will pass through here twice too, either side of the Box Hill loops, and you can enjoy the festivities at Hampton Court Palace.
Kingston Bridge, Kingston upon Thames
Billing itself as the place to go for those without tickets, fans can see the men's and women's races cross Kingston Bridge on their way back into London. You can also hang around for a few days and catch the time trials on August 1.
Elsewhere on the Box Hill loop
The men will complete nine loops and the women two, so there are plenty of chances to watch the race unfold. Finding a spot where the road tilts uphill should ensure the riders won't just be zooming past.
Staple Lane, East Clandon
More of a drag than a proper hill, the race heads over here just before the approach to Box Hill. Catch the peloton in full technicolour with the perfect backdrop of the expansive views of the capital.
This article originally appeared in the May 17 issue of Cycling Weekly
Related links
Confusion surrounds Box Hill ticket sales
'Extra' charges for London 2012 road races and time trials
LOCOG raise Box Hill Olympic capacity to 15,000 fans
Thank you for reading 20 articles this month* Join now for unlimited access
Enjoy your first month for just £1 / $1 / €1
*Read 5 free articles per month without a subscription
Join now for unlimited access
Try first month for just £1 / $1 / €1